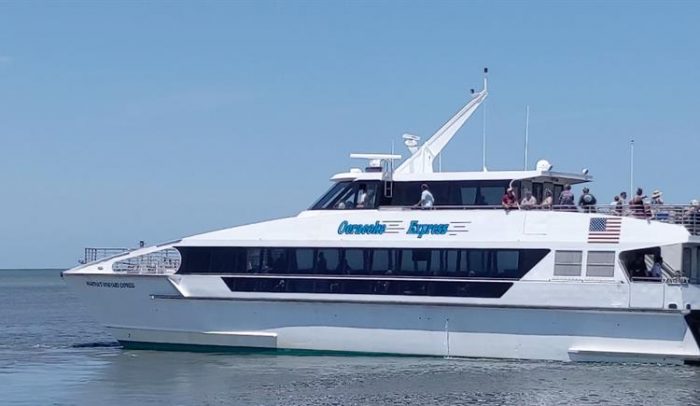 A few blogs ago, I wrote about the early ferries that served Hatteras Island, beginning with the ferry (actually, little more than a barge) operated by Captain J. B. "Toby" Tillett who established the first public means to cross Oregon Inlet. As I mused about this early conveyance in the shadow of the splendid new Marc Basnight Oregon Inlet Bridge, I realized that the romance of ferries endures, even in the twenty-first century.  Witness the happy hoop-la surrounding the launching of the new passenger-only ferry between Hatteras Island and Ocracoke Island on May 20. The graceful ship, a catamaran featuring smart Carolina blue chevrons, is the Martha's Vineyard Express, and is being leased by the NCDOT from the New Jersey-based company Seastreak Marine. It will make three round-trip runs a day between the Hatteras ferry dock and Silver Lake, the Ocracoke harbor, through Labor Day.
The Martha's Vineyard Express is substituting for our own Ocracoke Express, a $4.15 million catamaran ferry being built by US Workboats, near Swansboro. That ferry is designed to seat 98 people inside and another 26 outside, with racks for 12 bicycles. The idea for the passenger ferry came out of the need to alleviate long lines at the Hatteras Island and Ocracoke Island ferry docks of motorists waiting for the free car ferries to ply their journey across Hatteras Inlet. Shoaling in Hatteras Inlet has been a constant problem and has added 20 minutes to the once 45-minute trip as the ferries were routed further out into Pamlico Sound. The Ocracoke Express provides a 70-minute ride with the advantage of arriving in the heart of the village of Ocracoke, thereby avoiding the 12-mile trek from the ferry dock by car.
The romance of the ferries, whether car or passenger, is due in large part to the extraordinary waters upon which they sail. The Pamlico Sound, named for the local Pamouik Indian tribe in 1524 by Italian explorer Giovanni da Verrazzano, is part of a large, interconnected network of lagoon estuaries that includes Albemarle Sound, Currituck Sound, Croatan Sound, Bogue Sound, Core Sound and Roanoke Sound. Together these shallow waters comprise the second largest estuary (after Chesapeake Bay) in the United States.
According to Wikipedia, in 1987 Congress declared the Albemarle-Pamlico Sound an "estuary of national significance." As we residents and visitors enjoy the variety of recreational and commercial activities associated with our beautiful sound, we can certainly agree. So take a ferry, car or passenger, from Hatteras Island and enjoy a unique experience while adding to the $1.3 billion economic impact upon the state of these beautiful Outer Banks.