How often do you hear friends and visitors to Hatteras Island say, "I'd live here if I could figure out how to make a living."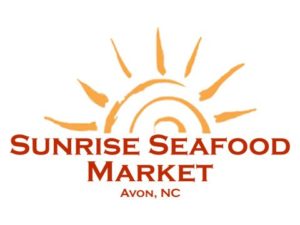 Frequently, I'll bet.  That's why Mark Martino, proprietor of Sunrise Seafood Market on Highway 12 in Avon, is exceptional.  He did it.
Mark is a Michigan native who came to the Outer Banks on vacation and loved it.  (Don't we all?)  Then he said, "Why not?" and stayed.  Formerly the owner and manager of a small health club, Mark looked around at several local possibilities and soon introduced himself to the owner of a local seafood market in Hatteras and Avon Villages. Mark went to work for the market, a position he held for almost three years, and learned the operation. Though any food service is considered tough, the fresh seafood business is especially challenging.  The first task is finding the best sources of fresh product, then keeping it fresh as you convey it to customers who you want to become regulars.  And as he learned, Mark became able to do that.
When the owners of the seafood market expressed interest in selling the Avon location, Mark was ready to step in.  This year, 2017, marks his second year behind the counter of his renamed Sunrise Seafood Market on the corner in Avon, the store easily recognizable by its bright yellow and sea blue color scheme and, once inside, by Mark's winning smile.  Mark's other assets are his willingness to put in long hours and the youth and energy to do it.  Sunrise Seafood Market is open seven days a week during the season from 10:00 am to 7:00 pm and in the early spring and late fall 11:00 am to 6:00 pm.
But as any small business owner knows that isn't the whole story.  Mark's days often run from 7:00 am to 9:30 pm.  Much of that time is spent sourcing and picking up the fresh products and preparing them to display in his spotless, well-iced cases.  Most of his fresh fish, crabs, clams and oysters come from Wanchese, Englehard and Swan Quarter.  The biggest challenge is keeping all that delicious stuff cold and fresh — especially when the Island's electric power is compromised for eight days in one of the peak weeks of summer as it was this year.  "I immediately went to my coolers and consolidated all my product to maximize efficiency," Mark recalls.  "Then I opened my doors and prepared to sell everything for a price that my customers would find appealing." Surprisingly, except for frozen key lime pies (my favorite) and other dessert products and home made sauces Mark didn't lose his inventory.  I wasn't on the Island that week, but I would happily have kept my gas grill going to accommodate such a seafood bonanza.
So when I asked Mark what was the hardest thing about learning the seafood business, he replied with his irrepressible grin, "I'm not in the seafood business, I'm in the people business. I want to make this store as complete a shopping experience for my customers as I can."  That means adding extras like Kombucha, a few gourmet soft drinks, chips and quality canned chowders. Customers can also pick up a few page turner paperbacks for the beach and donate a few of the same on their way out of town.
As I depart for Chapel Hill with my vacuum sealed and flash frozen tuna fillets, a key lime pie, and a supply of homemade crab cakes, my parting question is, "How long will you stay open?" Mark replies, "I'm hoping to stay open through Thanksgiving, then close and do some refurbishing and maybe upgrade my equipment."
Enjoy the holidays, Mark.  I'll be waiting for Sunrise Seafood Market to reopen in March, and my grill will be ready.