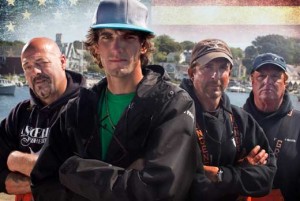 A couple of months ago, rumors that the popular National Geographic (Nat Geo) reality show, "Wicked Tuna," was coming to the Outer Banks to film began to swirl. 

Even in this small community, confirming this rumor was a difficult task. 

There was a Craigslist posting in late November asking for area boat captains and crews who may be interested in participating to contact producers. 

And even when it was confirmed that the producers were in town and interviewing captains and crews, the info was still hard to come by. 

In this small beach community, lack of information is a rarity. 

Everyone knows someone in every major industry in every little corner of the Outer Banks and getting information is never the problem — weeding out fact versus fiction is usually the only issue. 

One can be assured that every person involved or interviewed was forced to sign a non-disclosure agreement, so few are willing to speak. 

I have contacted Nat Geo a couple of times trying to get more information on this topic, but to no avail. 

National Geographic is a huge corporation that every last one of us can remember from our childhood. It is big business and the company is going to control the flow of information and keep everyone coming directly to them for the latest news. 

Finally, we have a confirmation. Just last week Nat Geo made it clear that they were starting a new spinoff of the popular series and that it was being filmed in the waters off the Outer Banks. 

"Wicked Tuna: North vs. South" had been born. 

Most avid saltwater or freshwater anglers have seen the show or at least know the premise of it. 

But for the rest of you, "Wicked Tuna" follows several boats that commercially fish for Bluefin tuna in the waters off Gloucester, Mass.

Like the Outer Banks, Gloucester is rich in commercial fishing history and Bluefin are one of the area's premier, commercial fish. 

The reality show highlights the chase for these fish and the cutthroat business that it involves. Bluefin tuna are a prized fish, especially in the world of sushi. 

Some Bluefin tuna can bring as much as $10,000 to $30,000 per fish in the U.S., based on size and meat quality. The same fish then could be sold at auction in Asian markets for hundreds of thousands of dollars. One recently sold for over a $1 million. 

The highest quality Bluefin that are brought to U.S. fish markets are rapidly beheaded, gutted, packed on ice, and put on the first direct flight to Asia within several hours of being caught. 

Yeah, this is serious business. 

On the flip side, commercial and recreational Bluefin tuna fishing is currently the most controversial fishery in the U.S.

Conservationists and environmental groups have been arguing for years that the Bluefin tuna is on the verge of extinction. Most opponents of this fishery want a full ban on the commercial and recreational harvest of these fish and want Bluefin tuna deemed an endangered species. 

An endangered species listing would make targeting these fish, even for catch and release, illegal. The U.S. already has size and bag limits in place, along with national quotas. 

Proponents of the Bluefin tuna fishery argue that it's the rest of the world who blast the stock the hardest, places where there is little to no regulation on catching the fish. 

Bluefin are like all their tuna brethren in the sense they are built for speed and power, so they are a highly sought after recreational fish also. 

However, Bluefin are consistently the largest of the tuna family with some fish hitting close to a 1,000 pounds regularly in the waters off New England. 

Recreational anglers come to the Outer Banks in droves to fight the toughest fish known to man. One cannot begin to understand the power of these fish if you have never caught one. It's a game changer for an avid angler. 

Both Gloucester and the Outer Banks are popular destinations for recreational and commercial fishing for Bluefin — simply because there is big money involved in it. 

A full-blown ban on this fishery would have serious economic impacts all along their migratory trail in the U.S.

But those arguments are best left for another day or better yet another columnist– I support the fishery. 

"Wicked Tuna" first premiered on Nat Geo on April 1, 2012 with a million viewers tuned in. That's a big deal. It's rare to see a new reality show bring those types of numbers on its opening night, especially on a non-network channel. 

I am sure there were interested proponents and opponents glued to their TVs for that show. 

"Wicked Tuna" has a fair following on Facebook and other social media sites, although, "Wicked Tuna's" 120,000 followers on Facebook is just a dusting compared to the 2.7 million followers for Discovery Channel's, "Deadliest Catch."

Having aired two full seasons and awaiting the start of the third in February of this year, "Wicked Tuna" has definitely generated a decent fan base. 

After most episodes air, you can find chatter on social media and other web forums pertaining to the episode. 

People are quick to pick apart any inconsistency they can find. It's not hard to generally key in on the fact that one reel is shown screaming with a bite, but moments later you might notice the rod and reel the angler is fighting on is completely different. 

It is hard at times to find "real" in reality TV. 

I do not think things are scripted, but I do know that the producers, directors or cameramen coach certain things and situations. 

Broadcasters and producers are in business only if the ratings for their programs are there, so adding a little drama to the scene is almost a must. 

And, most reality TV shows are full of melodramatic events. Fights among families, co-workers, or the competition are almost a must in all reality TV. 

"Wicked Tuna" has its own drama among its competing captains. 

The show not only follows the exploits of the boats and their crews, but also highlights which ones are pulling down the most money each season. 

A boat may catch three Bluefin tuna and add up some serious coin very quickly, only to have another boat deck a monster tuna that is worth more than all three of the other boat's fish. 

This always leads to endless smack talking and competition amongst the boats and crews featured in the show. 

At times, some of the captains seem to be very aggressive with one another. 

With so much money at stake, I am sure this is true to a degree and at times just flamed up by producers and good ol' fashioned editing. 

These boats and crews fish very differently for their Bluefin than most in our area are accustomed to. 

They generally anchor up and live bait for them, while chunking bait and sending out chum slicks. At times, an episode may consist of the boats sitting stationary all day for one bite or no bite at all. 

It's rare that you see one of these boats get multiple bites. 

And then, if the boat does get a bite, the melodrama quickly starts right up! There is an epic battle of give and take between the angler and the fish, but that is true rod-and-reel fishing for Bluefin. 

Fish are regularly lost to break-offs or several missed attempts with a harpoon once the fish is beside the boat. 

These are things I find mighty interesting given the fact that all of the featured captains are supposedly highly experienced. This is something you would not expect to see with seasoned fishermen. 

But, hey, it's reality TV. 

Now, some of these Gloucester men will be calling the Outer Banks home for the next few months to see how they fair against some of our captains and crews. 

Our waters are just as rough and unpredictable as what these guys are used to, but they will have to adapt to an ever-changing inlet to go back and forth into the blue and face a variety of different techniques our captains are used to. 

The Gloucester men are accustomed to seeing fish in the 700 pounds or greater category. That is a major rarity around here, but the smaller fish can come by in big numbers. 

You probably can expect to see some of our captains just trolling outright for them or green-sticking these fish, but sitting still anchored up is something I don't expect. I'd expect to see a lot more standing and fighting, as opposed to fighting from the gunnel. 

But what do I know? I am just taking a stab at how I believe our local boys will do battle. Each boat in this area has its own method. 

Ultimately, this spinoff is to see if the Yanks can out fish the southern boys and who can earn more money — one of them or one of us. 

I know who I am pulling for. 

Truthfully, I am very excited to see this show come here. The Outer Banks has always lagged in the national broadcasting scene of our fishing. 

The Outer Banks helped to shape and mold offshore fishing as the world knows it. 

The Outer Banks is currently the place where anglers caught the only two confirmed blue marlin over a 1,000 pounds in the last two decades on the Eastern Seaboard. 

And yet, the area does not have any true, regular fishing representation on the national broadcasting scene, as do other areas of the U.S.

I believe this "Wicked Tuna" show will be a positive thing for the Outer Banks, no matter the show's outcome. 

Our area commercial fishermen, recreational fishermen and boat builders can use a little exposure on this level. 

While this new show is highlighting only one species of fish, I believe any highlight is better than none. 

For now, I know that some of the Gloucester captains have already made their appearance on the Banks and are settling in for their scheduled three-month shoot. 

I am sure Facebook pages and twitter accounts will soon be riddled with sightings and pictures of the famous captains. 

Now, it's time to make a few famous captains of our own. 

"Wicked Tuna: North vs. South" is scheduled to film here through March and will begin airing on the National Geographic Channel in June 2014. 

I will continue to collect information and follow this as it unfolds. 

Good luck to our boys, show them how it's done!
January 17, 2014, Outer Banks Angling:It's About to Get Wicked, by Rob Alderman, retrieved from: http://islandfreepress.org/2014Archives/01.17.2014-OuterBanksAnglingItsAboutToGetWicked.html