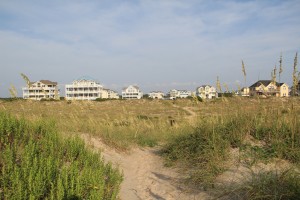 Recent headlines that have crossed my desk lately include, "Luxury Returns to Housing," "In Housing, Big is Back," "Realtor®.com Survey: 13% of Consumers are Ready to Buy a Luxury Home."
If you have followed the Hatteras Island real estate market closely over the years, you've probably noticed that we tend to lag behind the national market trends and even the trends of the Northern Outer Banks. North of the Bonner Bridge in Dare County, there have been 30 closed sales between 1 and 5 million dollars over the past year. The town of Duck leads the pack with 12 high-end sales over a million dollars and Nags Head comes in second with 9 high-end sales. There are currently 8 homes listed for over 1 million dollars that are currently under contract in the northern beaches. However, Hatteras Island hasn't seen a sale over 1 million dollars since 2011.
Hatteras Island may be a little more laid back and slow to react to these market trends but luxury home buyers are starting to take notice. We at NC 12 Realty are excited to announce that we have recently represented a buyer in the first oceanfront home purchase in Salvo over 1.5 million dollars since 2008. We believe that this is the first vote of confidence in Hatteras Island's rebounding market and feel that others are sure to follow. In fact, we have additional oceanfront listing over a million-dollars in Hatteras Village pending settlement at the end of May. There are at least 8 other active listings over a million dollars available on Hatteras Island and we have reason to believe that there are a few more luxury homes available that are not currently listed on MLS.
Luxury homes are defined as homes selling for at least twice the average selling price in a given market. You may be wondering why signs of a luxury market rebound matter to you, especially if you may be more comfortable investing in a modest beach box, but it does. The point is that if you watch the market closely, or have a good REALTOR® working for you, there are signs and trends that point to the future value in all real estate segments. After years of plummeting values on Hatteras, we have been relieved with a few years of stability and a decline in distressed properties. Now we are seeing the first signs of investor confidence – a driving force in rising prices. Luxury home trends influence all price points in a typical market.
Nationally, luxury buyers' top priorities include a chef's kitchen, expansive views (boy do we have those!), large master suites and overall square footage. In our local market, we also believe that rental income potential; updates, a home's condition and location (and, honestly, the stability of that location) are additional deciding factors on Hatteras Island.
Whether you are a potential buyer or seller in any price range, NC 12 Realty is pleased to be a source of information to you. We always welcome your calls for more personal updates that are specific to your wants and needs. There is no crystal ball but we feel that sometimes the writing is on the wall, if you pay close attention. The market is improving so let's talk about what that means to you. – by Carla Reynolds, BIC