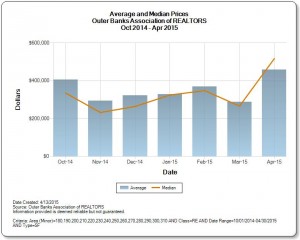 Nationwide, vacation home sales accounted for a whopping 21% of all real estate transactions. Locally, Hatteras Island's real estate market is improving and following the national lead. We have been hoping and searching for signs of improvement for years with occasional bright spots but the latest data is undeniably better.
From January 1, 2015 to April 12, 2015, forty-one single family residential properties sold on Hatteras. Only one of those properties was a Short Sale and seven were Foreclosures; so the distressed sales are down to only 19.5% so far this year (27% in 2014). Distressed sales previously accounted for an average of 50% of the total home sales here during their peak years of 2010-2012. The short sale and foreclosure inventory is down to less than 5% of the current homes listed for sale.
A steady uptick in selling prices is noticed on Hatteras Island by reviewing all of the single family home sales data over the last couple of years in six month increments. The indicators are slight but steady and are the beginning of a heathy momentum in the right direction.
04/12/2013 to 10/12/2013: Average Sales Price $332,397
10/12/2013 to 04/12/2014: Average Sales Price $330,198
04/12/2014 to 10/12/2014: Average Sales Price $343,605
10/12/2014 to 04/12/2015: Average Sales Price $340,500
Confidence is increasing and so is buyer activity on Hatteras. As of this writing, there are at least forty single family residential properties under contract, more offers are in negotiations now, multiple offer situations are arising, and buyers are steadily visiting the island to view homes for sale.
Check in with us and schedule your spring visit to find one of the homes for sale that it right for you and your budget. Buyers who close soon are typically treated to a nice check at closing for the rental deposits already collected for this season. Those who buy now can also still enjoy pricing at about 60% of our peak market prices and you are provided with an income producing property that is sure to increase in value as our market continues to improve.
We are ready to get to work for you. Call NC 12 Realty so we can determine how we can help you seek out what you are looking for.