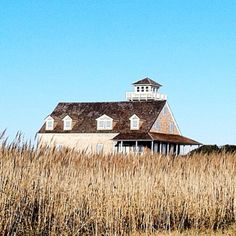 Imagine being a teenager 30 years ago with a new driver's license in your pocket and a surfboard in your truck in search of big waves and an exciting coastal experience. Chip Hemingway, now a principal in Wilmington-based BMH Architects, was one such young man. As an Eastern North Carolina native, Hemingway learned to surf at Wrightsville Beach and didn't discover Hatteras Island until 1980. What caught his eye as he drove south across the Herbert C. Bonner Bridge was an elegant old life saving station, surrounded by rather utilitarian structures and slowly sinking into the sand. Hemingway describes the austere beauty of the building's Shingle Style architecture that perfectly matches the windswept site on the ocean side of Oregon Inlet. Little did he know that one day he would be commissioned to renovate the structure that's now listed on the National Register of Historic Places.
Constructed in 1897 and 1898, the Oregon Inlet Lifesaving Station replaced a station built in 1874 for the US Life Saving Service that became the US Coast Guard. In 1988 the Coast Guard vacated the station and its 10-acre site and gave it to Dare County. After a prolonged legal wrangle regarding the ownership of the station and site, the county turned the property over to the North Carolina Aquariums to administer. Fortunately the state construction office determined that because the life saving station had been carefully boarded up it could be saved. The state hired BMH Architects and the Outer Banks firm Waldt Construction Company to perform a phased renovation.
Though initially envisioned as a complement to the work of the aquariums and as a retreat for students and educators working with marine resources, the 3500 square foot structure is now being discussed in the legislature as a Hatteras Island visitor center, too.
When BMH started the renovation in 2008, the firm was pleased to find much of the original fabric intact. Hemingway describes the need to unearth tons of sand so the building could be dug out, elevated 10 to 19 feet above grade and placed on pilings sunk 16 feet in the sand.  The original concrete foundation had deteriorated, so the challenge became to ease the structure down on a new pine floor capable of sustaining 100 pounds per-square-foot of pressure before raising it.
Today the lovely building with its imposing tower, wide porch and rows of dormer windows stands ready to be repurposed to greet the next generation of Outer Banks visitors and residents.
Welcome to my Hatteras Island.