As relatively new residents of Hatteras Island and our Buxton neighborhood, my husband and I appreciate the sense of community that we enjoy here. The mix of Island natives, long-time residents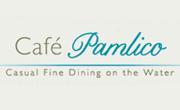 and newcomers offers a mix of people in all of life's ages and stages. Of particular note are those fortunate few who settle in to life on Hatteras Island and realize that they have found their true home. Such is the case with Steve Nelson, owner and operator of the Inn on Pamlico Sound and Cafe Pamlico. Steve arrived on Hatteras Island in 2001, a confessed "refugee from the New York Corporate World." He admits that it was his first wife's dream to open a luxurious bed and breakfast and dining establishment, and the Inn on Pamlico Sound was launched in 2005. Though Steve thrived on the challenges of creating the inn and restaurant with the help of several new friends and local craftsmen, his wife put the innkeeping life behind her, and Steve and two of his still-at-home children continued to build their lives and business on a lovely two-acre site on Buxton's scenic sound-side.
Soon the site's original Island cottage was joined by a new section that houses additional guest rooms, the Cafe Pamlico, and a commercial kitchen. The Inn's well appointed guest rooms, guest lounge and outdoor porches overlooking the sound created a flourishing business hosting weddings and other events that could take advantage of the beauty of the setting and the convenience of guest rooms and dining in one location. The music pavilion was added and Steve's own wedding took place there, accompanied by local musicians and a friend whose white doves took flight as the vows were completed.
Steve's natural hospitality and his gratitude for his new home have led him to offer the inn for numerous community functions, including fund-raising events for neighbors and friends who have suffered illness and injuries and special fixed-price dining and music evenings for locals and their families. His determination to see the inn and cafe succeed is deeply rooted in his sense that he has found his true home. "Whenever I visited friends in Maine during my years in New York City," Steve says, "they talked about 'home' with great confidence in what that meant to them. I never felt that way about any place until I came to Hatteras Island and purchased my first home here." Now Steve and the Inn on Pamlico Sound and Cafe Pamlico are part of why we lucky Islanders, new and old, enjoy calling Hatteras Island home.