One of our children's favorite books when they were very young was Good Night Moon. The intriguing charm of a darkened house with a mouse and an old wom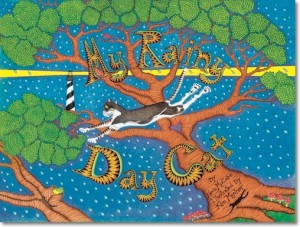 an in a rocking chair was irresistible. There was a soothing pace to the story and also a bit of mystery. Since my work has been largely with houses and special landscapes, I always wondered, "Where is this house with the mouse and the little old lady rocking?" Now I have a book that is equally delightful for children and for grown-ups, too. It is My Rainy Day Cat, written by Kevin McCabe and illustrated by Kim Mosher.
And guess what! I know where the rainy day cat hangs out. It is in the tree and the pond behind the McCabe-Mosher's house, right here in Buxton. Kevin McCabe is an ardent surfer and fisherman who has lived mostly on the Outer Banks since the 1970s, and Kim Mosher is a colored pencil artist whose work has been featured in many venues and recently won the cover of the northern Outer Banks based magazine The Sun. This husband and wife team have combined their talents to create a captivating story. The tale was inspired by a near tragedy when one of the McCabe-Mosher's rescued cats was suffering from a serious ailment that required expensive medical treatment. Kevin's mom, an animal lover, stepped forward to fund the treatment, and BK, as the cat was called, survived and lived to a ripe old age.
In gratitude to his mom, Kevin wrote the story of My Rainy Day Cat. In it the cat, on a rainy day, looks out the window and goes on an imaginary journey that takes him salmon fishing in Alaska and stalking in an exotic jungle. The beauty of the hard cover book, which was published in Virginia under the imprimatur Fur Cat Press, is a singular work of art. Kim Mosher, talented in nature drawing, illustration and graphic design, has created an exceptional world for the rainy day cat. Five years in creation, the pages are filled with myriad woodland creatures and birds neatly tucked away in the foliage. The team's work is educational as well as compellingly beautiful. Pick up a copy of My Rainy Day Cat at Gigi Rossel's Buxton Village Books and fall in love with all that the rainy day cat gets up to in the shadow of the great Hatteras Lighthouse.