Spring on Hatteras Island arrives with a flurry of activity as businesses prepare for the opening of the tourist season and travelers start perusing brochures to plan Spring Break getaw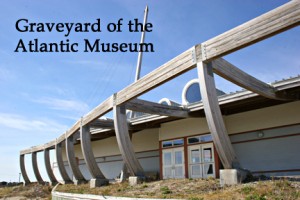 ays and reserve accommodations for longer summer sojourns. Already in gear for spring is the Graveyard of the Atlantic Museum, located at the almost tip of Hatteras Island in view of the Hatteras-Ocracoke Ferry Dock and the Coast Guard Station. The museum, designed to invoke the image of a shipwrecked hull, commemorates the many vessels that have met their end on the treacherous shoals of the Outer Banks, and it provides an in-depth look at the history and culture of the area.
The impetus for the museum came when North Carolina competed to house and display the salt-soaked remains of the great Civil War ship, U.S.S. Monitor, the first ironclad commissioned by the Union Navy. The Monitor and the Confederate C.S.S. Virginia fought to a draw in the Battle of Hampton Roads on March 9, 1862. The Confederates had to destroy the Virginia as they retreated, but a certain war-time justice prevailed when the Monitor sank in a storm off the coast of Hatteras Island.
Remains of the Monitor were found in 1973 and were eventually sent to the Virginia Mariner's Museum in Newport News, the facility best equipped to conserve, restore and display the ship's artifacts. The loss of that historic prize led to the establishment of the Graveyard of the Atlantic Museum, Inc., under the aegis of the Hatteras Island Civic Association. Land for the 7-acre site was arranged by agreement with the National Park Service and others, and in 1989, $50,000 was awarded by the Albemarle Commission to fund a study for the museum and to draft a concept design. 1999 saw the beginning of the construction of the museum's shell that entailed site preparation for an almost 19,000 square foot building that would withstand 135 miles-per-hour winds. Fund-raising began in earnest and a video titled Graveyard of the Atlantic Museum, the brainchild of museum director Joseph Schwarzer and Board member and documentary filmmaker Kevin Dufus, helped bring attention to the project.
The museum's 3,000,000 annual visitors enjoy its various and ever-expanding programs and exhibits. On March 12 the museum will host the 3rd Annual Graveyard of the Atlantic Museum Underwater Heritage Symposium, featuring underwater archeologists and professional divers describing their personal experiences, new technology, safety issues and stories of marine life.