Gee Gee Rosell's Buxton Village Books on NC Highway 12 is a modern rarity and a treasure.  It's an independent bookstore, a gathering place, an artists' venue and a premier source of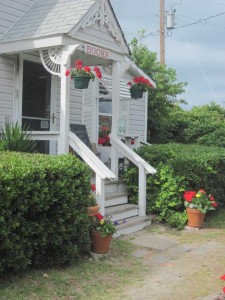 information about our Island's natural environment and romantic history. And as Gee Gee says, "the building may be vintage but the books are new. You can get your favorite book on its day of publication on Hatteras Island."
A community's character is reflected in its independent book store. Members of our family have lived near and enjoyed such pre-eminent North Carolina institutions as The Intimate Bookshop in Chapel Hill, The Regulator Bookshop in Durham, Malaprops in Asheville, and even far away Powell's Books in Portland, Oregon. Each establishment is housed in a historic building with wooden floors and stacks of new and used books arranged in cozy nooks and crannies where one can read standing in the aisles or sitting on the floor among children of all ages. It's the same at Buxton Village Books.  Gee Gee opened the store in 1984.  She had arrived on Hatteras Island in 1974 the day after graduating from West Virginia University. The original bookstore was just two rooms, part of a historic cottage that had been an accessory building to a former residence. With time and patience, Gee Gee expanded the building to include seven rooms with wooden floors and all the requisite nooks and crannies.
I can remember when Gee Gee's shop was the only place on the Island where I could fax an article to my publisher while I shopped for Christmas presents during the waning days of the year. My husband draws on Gee Gee's knowledge of what's in print or will soon be in print to find new mystery writers that I might enjoy after having run through every available Detective Inspector Thomas Lynley thriller by Elizabeth George. (Gee Gee suggested Louise Penny, a great choice.) And for me, Gee Gee researched the selection of books on Tai Chi, suggesting that Tai Chi for Dummies was the most understandable. It was in my hands a couple of days later.
Gee Gee's love and knowledge of Island history are among the resources she provides her friends and customers. Two of my favorite local history books recently appeared on her outside chalk board.  Elvin Hooper's Chicacamomico: How It Was Back Then and his companion book Gull Island and Other Stories give vivid semi-fictionalized accounts of Island life before Bonner Bridge was built and when residents joined life-saving teams to pull people and salvage from the roiling surf.
My friends and neighbors in the Triangle are jealous that here on Hatteras Island we have one of the great amenities of civilized life – a truly fine local bookstore.