Hatteras Village, one of the seven historic villages on Hatteras Island, has its own distinctive charm.  Its appeal is a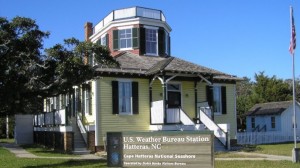 combination of small scale businesses situated along NC Highway 12, a historic residential area tucked under gnarled live oaks festooned with Spanish moss, a string of picturesque marinas and harbors accessible to Pamlico Sound, and a spate of official buildings, including a handsome brick firehouse, a library with a community room in a park-like setting, a post office and at the southern end of the road, the Hatteras-Ocracoke Ferry dock.  Turn off the highway at Burris's Red and White grocery and you will immediately find another official building, an unusual frame structure, painted an eye-catching yellow, with an octagonal second story topped by a widow's walk.  This venerable building is one of the first weather reporting stations of what would become the U. S. Weather Service.
Constructed in 1901 and commissioned the following year, the U.S. Weather Bureau on Hatteras Island, known locally as the weather station, provided living quarters for the observer and his family on the first floor along with a spacious office and observation room on the second.  The second floor room had a ship's ladder leading to the widow's walk for more up-close-and-personal contact with the weather and a launching platform for the weather balloons used to gather data.  The interior is completely sheathed in beautiful oak bead board with narrow board oak floors and large double hung sash windows.
Today this curious structure is home to one of three Dare County Outer Banks Visitors Centers, and it serves that purpose well.  Display cases and pamphlet racks showcase publications that catalogue the Island's many attractions, and a tailor-made video shows off its natural and manmade beauty.  Each individual room in the building is arranged to describe the activities that once took place here, and a display of weather pennants and flags reminds us that this building was once integral to the safety and well-being of islanders, ships at sea and many towns along the US east coast.
Because of its pivotal location in proximity to the Labrador Current and the Gulf Stream off Cape Hatteras, as well as major Atlantic coast shipping lanes, the station was in telegraph contact with the District Forecast Center at Washington, D.C.  The telegraph key was manned by two station personnel, Richard Dailey and Signalman Horace Gaskins, when at 11:25 pm on April 14, 1912, a distress signal and position coordinates were received from the RMS Titanic, stating that the ship had struck an iceberg.  The team immediately forwarded the message, only to be rebuked by District Forecast Center officer David Sarnoff, later founder of RCA, who didn't believe the Titanic was sinking.  Today a copy of the message received by Dailey and Gaskins is on display at the Graveyard of the Atlantic Museum in Hatteras.  It is notable for many reasons, including the fact that at that time the universal distress signal was not S.O.S. but was CQD, understood by wireless operators to mean "All stations: distress," or popularly translated as Come Quickly Distress.
So here on the edge of America is another site of historic and architectural significance, one of the earliest weather reporting stations in America.  The station's small but important role in the Titanic tragedy reveals that Hatteras Island has had its moments on the world's stage.