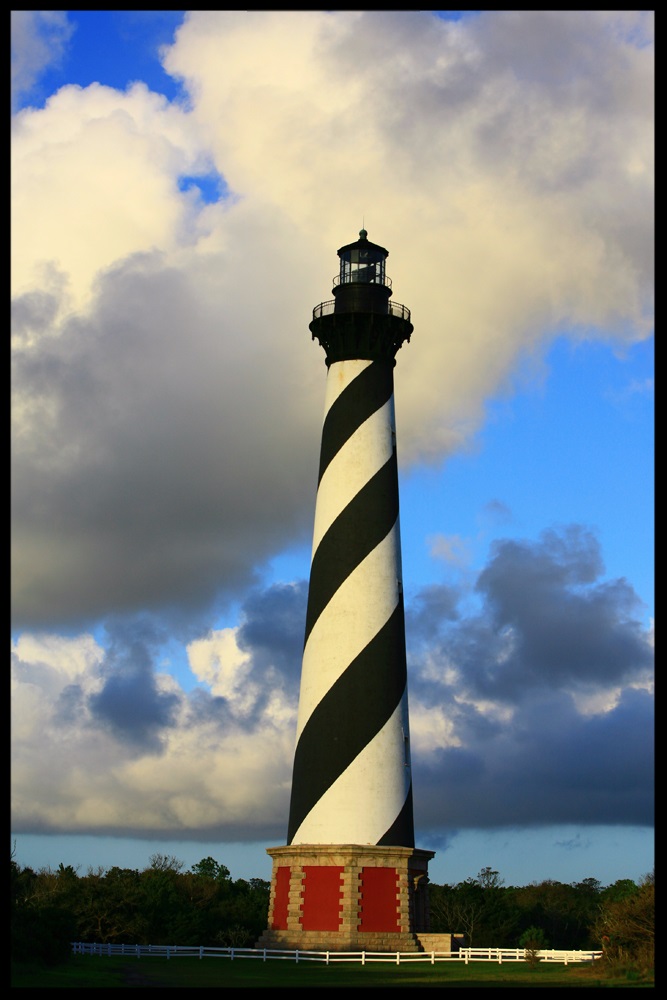 It is the tallest lighthouse in the nation.  It stands 210 feet, and its beacon can be seen 20 nautical miles at sea.  From its spectacular location amid sand dunes set with sea oats and bordered by the thick growth of maritime forest, the Cape Hatteras Lighthouse, constructed in 1870, is the jewel in the crown of the Cape Hatteras National Seashore.  It may be the most famous and most photographed lighthouse in the world, at least it is so speculated by no less an authority than UNC-Chapel Hill professor William S. Powell, editor of the voluminous Encyclopedia of North Carolina.  And here it is, right in Buxton in the heart of Hatteras Island, accessible to the public every day except Christmas and open from April to October to the more energetic visitors who wish to climb the 268 steps to the lamp room at the very top of the structure.
The lighthouse is administered by the National Park Service.  The service also operates the Hatteras Island Visitor Center in a separate building on the lighthouse site offering lectures and ranger programs and a bookstore.  A museum located in the historic Cape Hatteras Double Keepers Quarters features exhibits detailing the history of the Outer Banks, its maritime heritage, an overview of three wars fought on or near the Outer Banks, and the natural history of the area.
The present lighthouse is not the first lighthouse built in Buxton, but it is the most imposing with its 12.5 million bricks, solid masonry walls (14 feet thick at the base) with their distinctive black and white spiral bands, and a red brick and granite base. Weighing 5,000 tons, the lighthouse became the tallest building ever moved when the International Chimney Corporation of Buffalo, New York, contracted to move the structure 2900 feet to protect it from encroachment by the sea.  Dubbed "The Move of the Millenium," the project was completed in September 14, 1999, just a few months before the turn of the 21st century.
Today the stones comprising part of the lighthouse's original foundation are arrayed at the entrance to the lighthouse site as the Keepers of the Light Amphitheater. Each of the 36 granite stones is engraved with the name of one of the Lightkeepers who cared for the lighthouse from the days of the first lighthouse in 1803 until the last keeper in 1931. The engraving of the names of these historic and often heroic figures was commissioned by the Outer Banks Lighthouse Society.  The stones were placed in their current configuration in 2015.
As local writer Kevin McCabe describes the scene, "… after 212 years, all the Lightkeepers were together below, looking up at an old friend."  And so are we.