History is all around us on Hatteras Island.  The Hatteras Light and the Chicamacomico Life Saving Station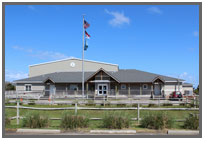 symbolize the heritage of generations of lighthouse and lifesaving personnel.  Our museums preserve artifacts of naval engagements dating from the Civil War and World Wars I and II, and a walk along the shoreline can reveal the remains of the wrecks of great ships that caused our coast to be named the Graveyard of the Atlantic.
But sometimes history is right under our noses and toes.  That's the case when we stroll into Buxton's Fessenden Center, a multi-generational community activity center that is part of Dare County Parks and Recreation facilities.  Yes, we take classes at the Fessenden Center — exercise, dance, line dancing, yoga – and we sign up for field trips, bird watching or gardening events.  Yet not many of us who enter the simple frame building realize that from Buxton, near this site, the first wireless transmission of musical notes ever relayed by radio waves took place in 1902.  The signal was transmitted from a 50-foot tower and was received 48 miles north on the western side of Roanoke Island.  The event that changed how human beings communicate was the achievement of Reginald Aubrey Fessenden, known as the Father of Voice Radio.
Fessenden, a Canadian, was an early apprentice of Thomas Edison and a prolific researcher and inventor. He was employed in 1900 by the U.S. Weather Bureau to fine tune radio signals to warn ships at sea of impending storms and bad weather.  Of course, the Outer Banks of North Carolina was an ideal location to test Fessenden's technology.  Based in Manteo, where he became friends with two other brilliant inventors, Orville and Wilbur Wright, Fessenden built experimental stations at Weir Point on Roanoke Island, at Buxton, and at Cape Henry, Virginia.  Working with a spark transmitter technology that differed from that developed by another pioneer, Gugliemo Marconi,  Fessenden had three 50-foot masts or towers built in his three locations to serve as receivers for what Fessenden had devised and later patented  as 'Selective Signaling by Electromagnetic Waves."  The experiments led to a test of the system in April, 1902, that succeeded in part because a colleague at the Weather Bureau urgently needing to reach Fessenden used the experimental system in lieu of a telegraph with perfect results.  That 127-word message was the longest yet received by the Fessenden system.  The use of musical notes came later, in December 1902, and was a logical precursor to applying the human voice to a radio frequency carrier, or radio- telephony.
Fessenden went on to develop voice transmission, amazingly demonstrated in a Christmas Eve, 1906, voice and music broadcast to ships on the Atlantic Ocean.  His later inventions enabled ocean depth measurement and an early version of radar and had great military and commercial value.  He was honored for his many scientific achievements with awards and academic programs that carried his name.  Perhaps his most publicly notable distinction was having a World War II Edsall-class destroyer escort named for him by the US Navy.  A model of the destroyer and several items of military memorabilia are on display at the Fessenden Center in Buxton.
The display telling the story of "The Father of Voice Radio" is on your left as you enter the building.  Pause to enjoy it and remember another important fact of Hatteras Island history before you go into your yoga class.