So how's this for encouraging news in times when it is sometimes difficult to find uplifting stories in the mainstream media?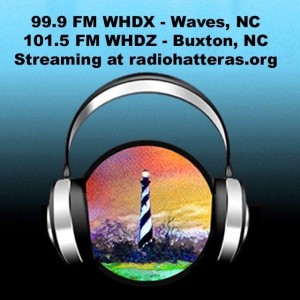 Hatteras Island, with a population of approximately 4,500 permanent residents, just celebrated the third anniversary of its own radio station.  Radio Hatteras broadcasts at 99.9 WHDX-FM from Waves and 101.5 WHDZ from Buxton. It was just three years ago that a sleepy-eyed group of volunteers assembled in the lobby of the former offices of the Cape Hatteras Water Association to hear the strains of the Star Spangled Banner and sign on the first broadcast of non-profit Radio Hatteras.
Among the weary but enthusiastic band were Mary Helen Goodloe-Murphy, now vice president of the Radio Hatteras Board of Directors, and a cadre of indefatigable volunteers who are still at their posts today. A heady mix of endurance, talent, and a true love of Hatteras Island has held this enthusiastic band together and enabled their creative instincts to thrive.
A brief summary of the station's history includes an amazing combination of good luck and opportunities seized. For example, the idea of a local radio station was first promoted by Lou Browning and Richard Marlin and then by Jim Kinghorn, former general manager of the Cape Hatteras Electric Cooperative, as a way to keep the population informed about storms and other emergencies. Buxton property owner David Wilson, of Arlington, Virginia, held two much prized commercial broadcast licenses. According to Mary Helen Goodloe-Murphy, David Wilson offered the licenses to the Hatteras Island Rescue Squad, who declined them because they were already working as hard as they could. So Wilson donated the licenses and transmitting equipment to the newly formed Radio Hatteras board.  The board applied for and received Federal Communications Commission permits to begin broadcasting
Now that they had a radio station, what were they going to do with it?  Programming is the heart of any broadcasting enterprise and Radio Hatteras's diverse and talented group combined its technical knowledge and a love of music and community to answer that question. Volunteer Tom Garrison, a retired civil engineer and host of the popular "Grand Ole Osprey" blue grass program that airs at 8:00 pm on Tuesday evenings, describes the resources needed to put listenable programming on the air, a skill he learned from Shelley Tidd, who fills many roles in addition to her musical offerings. Much depends on the digital jukebox database that is accessed by the volunteers to create their individual programs. Barry Wells, who with Richard Marlin and Mike Hennesey, form the technical core of the station, spent many hours up-loading music to get the station started. It is quite complicated to create a weekly program that must access, edit and cut a selection of songs and intersperse them with public service announcements.
This is apparent from a sampling of the schedule that includes "Electric Beach Party," with Carol Busbey, co-owner of Natural Arts Surf Shop; "The Folk Way" with artist and musician Linda Browning and Hugh George; "Babylon by Bus," a reggae mix offered by Carlos Babilonia; "Celtic! Old World to New Age" with community volunteer Liz Browning Fox; "The Beach Music Hour," with Bill Smith; and weekend offerings including "Breakfast with the Beatles," with Shelley Tidd; "Excellent Musical Adventures," with Carol Busbey and Shelley Tidd; "Hatteras Blues," with Steve Davis; "Alternative Gold Mine," with Susanna Couch, "Mary Ellen's Dance Party," with Mary Ellen Riddle; and on Sunday "The Weekly News Summary," "Sunday Night Specials," and an hour of jazz.
From blue grass to Celtic music, folk, and hard and soft rock, all options are offered, along with community news and local events, over-the-air and streamed through the Website radiohatteras.org. Recently a local event became a global event when Buxton Village Books owner Gee Gee Rossel's on-air book club members gathered at the Avon Fire Hall to host the Finale of the Worldwide Online Blue Mind Book Club.  Gee Gee's special guest in Avon was the author of Blue Mind, California-based Wallace J. Nichols. That's big time for a small island on the edge of America.
Please help us support Radio Hatteras by contributing to the station at P.O. Box 339, Frisco, NC 27936.