Living by the sea seems to stir the creative juices, and the beautiful surroundings provide endless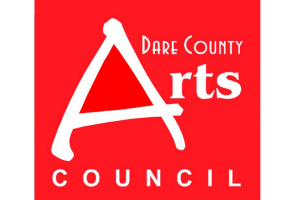 inspiration for artists, photographers, writers, musicians and craftsmen. The fifth annual Rock the Cape Festival, a celebration of the creative community of Hatteras Island, is on the horizon, so it is worthwhile to note the long and illustrious history of the non-profit Dare County Arts Council (DCAC) and our own non-profit organization, Hatteras Island Arts and Crafts Guild.
Rock the Cape has been expanded to a week-long event (June 17-24) that showcases the island's artistic talents, as local businesses and artisans come together with numerous events, including demonstrations, trunk shows and tours. Music, concerts, the healing arts and several food trucks will add to the festival's offerings.
So where did this attention to the arts come from? According to the Dare County Arts Council's website, it began 40 years ago as an effort by a former school teacher to insure children's access to the arts. That former teacher, Pat Fearing, stated that, "Children must be exposed to the arts if their souls are going to develop. We want to be sure that Dare County children have every educational advantage and are exposed to cultural opportunities that are accessible to children in a metropolitan area." And for 40 years, staffed largely by volunteers, the DCAC has offered workshops, classes and some notable exhibitions for children and, increasingly, for adults.
Our own Hatteras Island Arts and Crafts Guild collaborates with the DCAC in organizing the Rock the Cape event.  The Guild also hosts arts and crafts shows on its own throughout the spring, summer and fall, with two major shows, one in August and one on Thanksgiving Weekend. Proceeds from these events provide scholarships for Hatteras Island graduating high school seniors and help promote local artists.
This year the extended Rock the Cape celebration will include a Hatteras Island Gallery Tour , from Rodanthe to Hatteras Village. Each gallery will have its own special activity with artists, musicians and demonstrations on hand. A new DCAC Gallery Map will be available for the tour.  Copies can be obtained by contacting the DCAC Executive Director Chris Sawin at dareartsinfo@gmail.com.
Another bonus with this year's festival is the Avon Art Show, located at Avon's Hatteras Realty.  The show combines with Rock the Cape to create an all day experience of the arts, running from 10:00 am to 6:00 pm.  Admission is free. The extravaganza features 35 local artists and craftsmen and will be followed by the fifth annual Rock the Cape Concert sponsored by Koru Village at the  nearby Beach Club in Avon.  Doors open at 6:00 pm for the concert featuring Fleetwood Mac Tribute Band Rumours.
Rock the Cape Event Chair and Spinfinite Designs owner/artist Randi Machovec, calls the week-long event a great way for local businesses and artisans to come together to celebrate our creative community.