It is always a pleasure to walk the well-tended Lighthouse Road that winds from NC Highway 12, passes the entrance to the Cape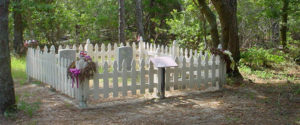 Hatteras Lighthouse Visitor Center and ends at the Cape Point access ramp. But too often I fail to pause and make the short detour off the pavement to visit the British Cemetery in Buxton Woods, a pleasant spot marked by a picket fence nestled beneath tall pines and cedar trees. Though the graves of only two British sailors are there, the cemetery gives testimony to a history of military engagement on the Outer Banks that stretches from Revolutionary times through World War II.
The first seaman to be interred in Buxton woods was a member of the crew of the British merchant ship San Delfino, a motor tanker that was destroyed on April 10, 1942, after a German submarine subjected the ship to a barrage of seven torpedos for more than three hours. The body of a single seaman washed up on the Hatteras Island beach and was quietly buried in Buxton Woods by the villagers. Just a month later, in May, 1942, the Bedfordshire, an armed British naval trawler assisting the U.S. Navy in anti-submarine patrols, was sunk by a German submarine off the coast of Ocracoke Island with a loss of all hands. Bodies of four of the ship's seamen washed ashore on Ocracoke and were buried in what became known as the Ocracoke Island British Cemetery. The body of a fifth seaman was recovered on Hatteras Island and buried next to the San Delfino victim. The cemetery became known as the Cape Hatteras Coast Guard Burial Ground.
Every year on May 11, the U.S. Coast Guard and local residents honor the graves of the British seamen who now reside forever on Hatteras and Ocracoke Islands. A Royal Navy flag flies over each cemetery, and in 1976 both British cemeteries were leased in perpetuity to the British government.
In 1980, the wreck of the Bedforshire was located at a depth of 100 feet off Ocracoke, at 34 degrees, 10'N 76 degrees 41' W.  In 2008 the National Oceanic and Atmospheric Administration led an expedition to document the condition of ships sunk during the Battle of the Atlantic, considered to be the longest continuous military campaign in World War II, running from 1939 to the defeat of Germany in 1945. The Bedfordshire was among those listed.  And on July 2015, the Bedfordshire was placed on the US government's National Register of Historic Places.
Such a simple thing but so meaningful, to pause and honor those who have served to protect us. I'll try to stop more often.