The theme of "community," a word defined as 'a group of people living in the same place or having a particular characteristic in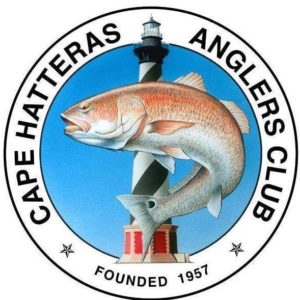 common,' is one that keeps cropping up as I continue to enjoy my years on Hatteras Island. I've written about people and places that add to this sense of community, including museums, historic landmarks, family businesses, community volunteers and organizations that gather and preserve local history. But the one organization that may provide the most tangible sense of community to every resident and newcomer is the Cape Hatteras Anglers Club.
Located in a modest building on Lightplant Road in Buxton, the organization was established in 1957, just four years after the creation of the the Cape Hatteras National Seashore (the nation's first national seashore). The Seashore included much of Hatteras Island, where many landowners were willing to sell their land to the National Park Service to allow the Seashore to be established. The Seashore opened opportunities for recreational tourism and offered a potential boost to the local economy of Hatteras. In recognition of this, 81 people formed the Cape Hatteras Anglers Club with the purpose of promoting tourism during the fall season.
And how did they do that? By promoting an annual surf fishing tournament that has continued on the first Thursday and Friday of November since 1958 − with one exception. In 1990 the Bonner Bridge over Oregon Inlet collapsed, cutting off access to Hatteras Island. The tournament is organized around 120 teams of six fishermen each and is the world's largest surf fishing team tournament, according to the Guinness Book of Records. Stations are set up along the ocean from Hatteras Inlet to Salvo, divided between sites north and south of Cape Hatteras. There are morning and afternoon sessions each day at a different location for each session.
Men and women come from all over the East Coast to try their hands at reeling in flounder, Spanish mackerel and a variety of bottom fish. The action is governed by strict rules.  The cast-and-retrieve method is employed to reel in a fish, so a big one has to be wrestled ashore by the person who caught it. There are men's teams and women's teams and each one has its special identity and team name. Team names that have popped up over the years include the Outer Banks Sportfishers, who are 34 year tournament veterans, and the Kinnakeet Luring Ladies, who decorate their stations with palm trees and pink flamingos.  The tournament is a  powerful draw for residents and people visiting and interested in Hatteras Island and in great fishing.
Over the years the community activities of the Cape Hatteras Anglers Club have expanded from a weekly bingo game with snacks at the Buxton facility to include a Scholarship Fund for Hatteras Island graduating high school seniors and educational programs on local issues. The club also has a Facebook page with heartwarming photos of members and their children fishing together. Some excellent photography is provided by proud family members, and some professionals add scenic sunsets and picturesque beach scenes. But every child who is fortunate to have his or her first big catch memorialized on the Cape Hatteras Anglers Club page will treasure that image forever. So look up the Cape Hatteras Anglers Club at http://capehatterasanglersclub.org. or join them on Facebook. And remember this is what community is all about.