The weather is always a topic of interest to those of us living and visiting on Hatteras Island. And this year's late fall weather has been exceptional. The days have been sunny and cool with moderate winds and lots of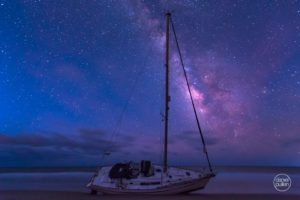 excellent fishing reported. Puppy drum, blue fish, trout and flounder have graced our table as friends brought fresh fillets only 30 minutes out of the water and made seafood chowder with succulent puppy drum and shrimp.
A successful fisherman once told me that often the best time to catch your limit is when most of us are dreaming of fish, not casting for them. However, on December 3, there was another enticement for our early risers, as that was the peak time to view the Supermoon,, so named by astronomer Richard Nolle. The Supermoon occurs infrequently, only when a full moon appears in the elliptical orbit that is closest to the earth, making it seem    especially close, full and bright. So imagine the Supermoon floating above the surf while you feel a puppy drum pull on your line. Too good.!
According to Jeff Hampton, writing in the Virginian-Pilot, the sky over Cape Hatteras National Seashore is one of the darkest and best places for star gazing and moon gazing on the east coast. He quotes Park Service Ranger Carolyn Campbell that the Seashore is on track to become one of 67 places worldwide, including 37 parks, recognized by the Arizona-based International Dark Sky Association. Yes, there is such an organization and our friends at the Park Service are doing their best to keep and enhance our chances for that status. The Park Service is seeking to convert about 350 outdoor lights within the park to softer beams that shine downward.
John Barentine, program manager for the International Dark Sky Association, points out that a darkened sky not only assists in the preservation of baby sea turtle and migrating birds but also results in increased tourism. "People will travel great distances to see a natural sky," says Barentine.
Fortunately, Hatteras Island already has an active star gazing community. Belinda Willis of Hatteras Village's Lee Robinson Store places night-sky charts on the counter and stargazing notices on the bulletin board. She helped organize the first Hatteras Village stargazing event in February, 2017, and is hoping the event will be repeated this February.
So start 2018 with a resolution to enjoy another of the opportunities available to those of us privileged to spend time on Hatteras Island, star-gazing. There will be another Supermoon on January 2 and a Blue Moon (so called when there is a second full moon in a month) on January 31. Astronomers call this a Supermoon trilogy, and we on Hatteras Island have a front row seat.