The month of May has been extolled as the merriest month of the year, with cultural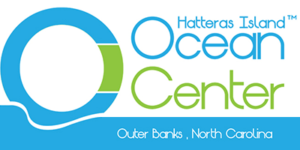 festivities such as May poles, Cinco de Mayo margaritas and the Kentucky Derby. It is equally celebrated on Hatteras Island as the official beginning of our busiest visitor season.
With the visitor season comes the reopening of the Hatteras Island Ocean Center, a non-profit educational organization committed to the development of Hatteras Island as a year-round ecotourism destination. Though the young organization is still seasonal, it has high hopes for a year-round venue for education and recreation.
The center, located on a soundside parcel of coastal wetlands and forest in Hatteras Village, is the brain child of Eric Kaplan, a Frisco property owner and founder of a successful Charlottesville, Virginia, tech firm. Kaplan was looking for a way to employ local residents on an annual basis and encourage multi-season educational and recreational tourism.  When Kaplan learned that the Cape Hatteras Secondary School of Coastal Studies in Buxton, the Island's Middle and Upper School, lacked the facilities for teaching advance placement marine biology, he had his hook—science, outdoor education and ecology.
Kaplan approached Lou Browning, the founder of Hatteras Island Wildlife Rescue and a federally–permitted wildlife rehabilitator, and Tim Midgett, businessman and lifetime Hatteras Village resident and President of Midgett Realty, for ideas on how an exciting and sustainable educational and recreational facility for the Island could be developed. The Hatteras Island Ocean Center was the answer.
With comprehensive guidance from the National Park Service (NPS), the team shortly found itself with a location now known as the Ocean Center Beach Area. As luck would have it, Lou Browning and his artist wife Linda Browning owned 4.6 acres of the site and donated what became the heart of the Ocean Center Ecology Park (OCEP). Tim Midgett committed financial support and brought along the local business community. Soon thereafter, the group was able to purchase a small shopping center and with sweat equity from founding volunteers Liz Browning Fox, Jody Haller and Rich Henneberry, Ocean Center Hall was opened.
Today, the HIOC plays multiple roles. It is a museum with interactive and traditional displays and exhibits featuring the ecology of Hatteras Island and its nature, history and recreational opportunities. There are nature walks behind the main building where visitors can also rent or launch their own non-motorized watercraft. Volunteer graduate students conduct educational programs that include teaching children to catch crabs, study sea turtles and generally interact with nature. A favorite activity is Campfires, Crabs and Constellations where groups prepare campfires and spot ghost crabs while learning about the night sky. Another major program is Turtle Sens: Improved Beach Access for People and Better Protection for Turtles.
Needless to say, visiting parents are enthusiastic about the Ocean Center and its offerings, and the non-profit's website is filled with stories of happy children learning while experiencing the fascinating ecosystem, rich history, natural beauty and wonderful weather of our Hatteras Island home. If we continue to support the Center, we can look forward to enjoying it all year. Then the merry month of May will just be a seasonal milepost.