Inspired by the interview with Brian and Shaena McMahon, a.k.a., the Salt People, I looked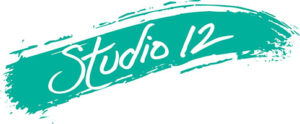 around for other family businesses to write about. Here in my Buxton neighborhood I found the Schenas, Carolyn and Gary, a husband and wife team who own and operate Studio 12 in Avon. The business is a combination art gallery, coffee shop, and creative design studio equipped to foster the artist in all of us, no matter our age. Located in a brightly painted renovated house just across Highway 12 from the popular Beach Club entertainment and dining venue, Studio 12 is the Island's own paint-your-own pottery and mosaic workshop.
"Gary and I knew we wanted a family-friendly business," says Carolyn, recalling their decision to relocate to Hatteras Island from their home state of New York, "and my background in art and education made working with pottery and mosaics appealing.  Here at  Studio 12, families can bring their children for a day away from the beach, couples can enjoy making souvenirs of their time together and many folks choose to use the Studio as a party setting for a group of friends or bridesmaids."
And how did the Schenas find their new Island home?  Carolyn says, "I like to say, 'The wind blew us down here.' " Gary, a dedicated surfer who moved into wind surfing and ultimately kite boarding, had frequently vacationed on the Outer Banks. When he brought Carolyn to Hatteras Island and proposed it as their new home and a place to start a family business, Carolyn said, "Well, we can give it a try." That was fourteen years ago and now with their daughter Samantha and several porch cats, the Schenas are well established in their Hatteras Island life and businesses.
The businesses are plural because Gary is also a Certified Public Accountant (http://www.cpaobx.com) and operates that business from an office in the Studio 12 building,  Gary not only has a strong business background, including a stint on Wall Street, he has also acquired some significant chops in the art field, honing his skills on the pottery wheel and gathering an Excellence Award from the Dare County Arts Council at the Molly Fearing Art Show. Carolyn's artistic foci include glass fusion and painting, as well as jewelry making. In addition to awards from the Dare County Arts Council, Studio 12's creative pair were honored to represent North Carolina by designing a Christmas Tree ornament for the White House Christmas tree.
But this story wouldn't be complete without a nod to the Studio 12 Coffee Shop. Gary, the multi-talented entrepreneur, went to Coffee College and now whips up a variety of excellent coffee creations when not working at his other jobs. Carolyn is an active participant in the coffee end of the business, too, joining Gary in learning about varieties of coffee and roasting the beans on site. I can attest to the quality of their product after having entertained a coffee aficianado who trekked the length and breadth of the Island before declaring Studio 12's offering her very favorite. Maybe next time, we'll paint our own pottery mugs to use for our coffee.