To cap off the summer fun on Hatteras Island, pick up your copy of Kevin McCabe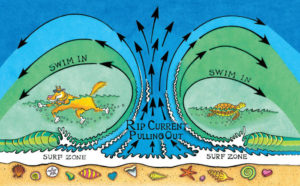 and Kim Mosher's latest publication Surf Dog's Beach Safety Tips.  This lively and helpful handbook features Surf Dog, a leggy, shaggy dog perched on a surfboard with shades on his nose and a lifeguard's whistle around his neck. The book cautions young and adult readers with an array of beach safety tips, from avoiding hot sand when stepping out of the car to never swimming near dangerously barnacled jetties and always leaving the water at the first sound of thunder. There are sections on "Surfing" and "Boogie Boarding" and natural phenomena like "Watch the Tide" and the "Sand Monster."  And, of course, Kevin's basic mantra, "Learn to swim!"
How did this talented duo start life and business together?  It's a great beach book story.  Kim Mosher, a photographer working at Norfolk's Old Dominion University, met surfer Kevin McCabe at the Old Lighthouse Beach in Buxton while on a field trip.  It was the beginning of Kim's partnership with the Outer Banks and with Kevin, now her husband and business partner of 30 years.  The artist, a specialist in color pencil art, and the surfer eased into the art business with both of them working full-time jobs in other fields.  He was a carpenter, she was a waitress at the beloved Tides Restaurant, whose latest iteration is the Captain's Table on Highway 12 in Buxton.
Buxton became, and is still, home base for Kim and Kevin. Their house, built largely by Kevin and his friends, is practically in the shadow of the Cape Hatteras Lighthouse , and that's where Kim spends countless hours in her studio creating her art.
While working at the Tides, Kim concentrated on nature art, painstakingly depicting the fish and birds of her adopted Island and the sea around it. Her work was sold from the walls of the restaurant and from shops and craft shows where Kim and Kevin displayed her prints, tiles and cutting boards.  Kim had an obvious talent for illustration and when a friend brought her three typed pages of a children's book titled Pelican and Pelicant, she was inspired to create a home for a host of carefully crafted creatures.  Buxtonia is the name she gave to a lovely world drawn from the maritime forest, beaches and iconic lighthouse that Kim saw every day.  The main characters, two pelicans and their friends (who look a lot like Kim and Kevin's Hatteras Island friends) were cheerful feathered critters that make Pelican and Pelicant a book beloved by children, moms, grandmothers and even a former head of the UNC Press, who put down his sandwich to page through it with admiration.
As Kim's interest in illustrating grew, husband Kevin stepped in to provide new material. Kevin, a skilled fisherman, had written and published a brochure on the Fishes of the Outer Banks of North Carolina, a popular item at local retail stores, and more recently his brochure The Ultimate Cape Hatteras Lighthouse Climbing Guide & Points of Interest Map, a standard at the Cape Hatteras Lighthouse Museum store.  My favorite is his Twenty-Five Secrets, a colorful recipe book, based on Kevin's time growing up in Jacksonville, North Carolina, the son of a Marine family, and traveling the world on surfing adventures.  The book features recipes from Kevin's childhood, several visits to Mexico, and a surfing mega-tour of Hawaii and Indonesia, with illustration by Kim. These publications were a prelude to My Rainy Day Cat, a second self-published book written by Kevin and illustrated by Kim.  My Rainy Day Cat is a poem based on several cats Kevin has known and takes place in a magical place that just might be the McCabe's back yard in Buxton.  Kim's beautifully complex art adds to the mysterious nature of a cat's imaginary journey on a rainy day.
And now the Kim and Kevin duo have brought forward a fun, colorful and very important new offering, Surf Dog's Beach Safety Tips, a joyful ending to the summer for friends and families new and old.  See it, along with My Rainy Day Cat, Twenty-Five Secrets and all of Kim and Kevin's other work, at local museums and gift shops or purchase them on-line at www.kimmosherdesigns.com