Nor' westers, nor'easters, changing ties, low pressure systems and what my hunters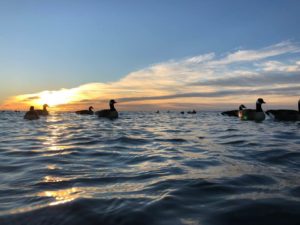 are hoping to shoot the next day all dominate the ongoing conversations for 40 days and nights during the third leg of duck season. Duck hunting "On the Reef" is like none other. It's simply world-class hunting, just steps away from our front door. The lure of shooting that redhead, a brant or even the much sought-after pintail make these fellas live to hunt year after year.
Living on Hatteras Island in the dead of winter definitely has its perks, but I didn't even understand it until my youngest son's college buddies preferred to spend their extended holiday breaks with us. Oddly enough, we have more house guests during the months of December and January than we do during the crazy, busy summer season. Thank goodness, I love to cook. Nightly, our dinner table is filled with Big Rom's hometown friends, college buddies and old and new friends galore.
Raising our two young men, Rom 4 and Cameron, on this skinny strip of sand with the Atlantic Ocean and Pamlico Sound as best friends, they quickly developed that love for fishing and hunting from their father, a third-generation sportsman. They learned to rig, paint and set decoys, drive the boat and build duck blinds and curtain boxes. Fast forward this story 20+ years, they now along with their partner, Will Smith, own and operate R&W Guide Service. Now don't get me wrong, the hunting experience is like nothing you have ever imagined, but it takes professionals who understand the elements from weather, tide, and even saltwater to guide you along the way. From Avon to Hatteras, these incredibly skilled young captains are available for your guide services to give you an unforgettable experience.
If you are a waterfowl junkie and would like to give duck hunting on the Pamlico Sound a shot, give them a call or shoot them a text or email. Oh, I almost forgot, these young men continue as well during the spring, summer and fall to help you catch any inshore species your heart desires.
Rom A. Whitaker IV
Sound Bound Charters
252-305-5229
rwduckguide@mail.com
Will Smith
Bak Bar Charter Fishing
252-216-8576
wsmith0571@yahoo.com
Cameron Whitaker
Tradition Fishing
252-305-7755
www.traditionfishing.com