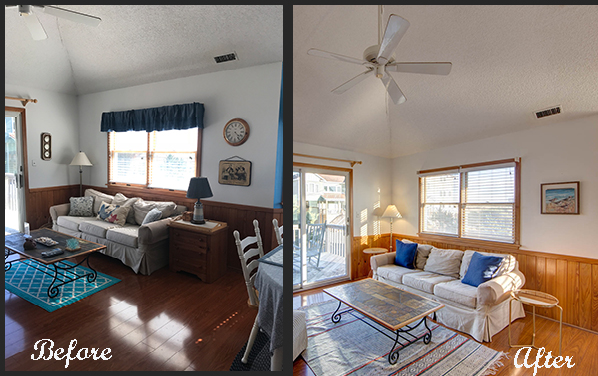 An echoing statement that I frequently hear when taking buyers out to look at property is, "I love this home's layout and location, but it is so outdated. I'm not interested in tackling a project like this." Sometimes a home's décor is outdated, sometimes it is the kitchen and bathrooms that need a facelift, and then there are times when an entire house needs a home makeover. Usually, when a buyer looks at a home that requires updates and renovations, they see dollar signs and a project that will have to be managed from far away. Situations like this lead to lower offer prices and a potentially lower sales price. Home staging can be an excellent option for homeowners faced with this challenge by bringing life back into the property without having to spend a substantial amount of money.
Home staging is defined by Merriam Webster as "the activity or practice of styling and furnishing a property for sale in such a way as to enhance its attractiveness to potential buyers." The goal of staging a property is to transform the home so that when a buyer walks in, they can envision themselves and their belongings in that space. There are many levels of staging that can be utilized based upon a budget or timeframe. A homeowner with a large budget can do a full home makeover including new a new kitchen, bathrooms, flooring, fixtures, furniture, bedding, accessories, and artwork. However, typically this is not the case. Many homeowners are looking for ways to make affordable yet impactful changes that will bring in buyers. You can do this by minimizing knick-knacks and getting rid of any excess furniture. Spruce things up by rearranging the furniture if needed and adding new bedding, accessories, and artwork. With the popularity of stores such as TJ Maxx, HomeGoods, and Target this can be done quickly and on a reasonable budget. By doing these small things, you can take the focus away from an outdated kitchen or bathroom and move the potential buyers focus to other great features the home has to offer, such as a great location, a great view or abundant space.
Many times a homeowner is hesitant to tackle this type of project due to either long distance, lack of motivation because of a steady and stable flow of renter income or lack of confidence in choosing the décor.
At NC 12 Realty, we offer home staging and can assist with home renovation design and décor choices for our clients. Call NC 12 Realty today so that we can help you get your home sold faster and at the best price possible by utilizing the benefits of home staging.