As Islanders and many visitors know, our own homegrown festival, the Hatteras Day at the Docks, was abbreviated in September this year by the aftermath of hurricane Dorian.
Taking up the slack is the Hatteras Island Oyster Roast, on the calendar on Saturday, February 1, to benefit the North Carolina Coastal Federation. The goal of the Federation, according to its website, is "to protect and restore coastal water quality and habitats throughout the North Carolina coast." This goal is pursued by "engaging and collaborating with people from all walks of life who are committed to preserving the coast for current and future generations." And so the crowd that gathers annually at Oden's Dock in Hatteras Village for oysters, chowder, cornbread and homemade desserts contributes to environmental preservation while enjoying good food, good fellowship and live music for a relatively modest fee. This year's proceeds will be used for the Federation's oyster education and restoration programs, as well as support hurricane recovery efforts in the area.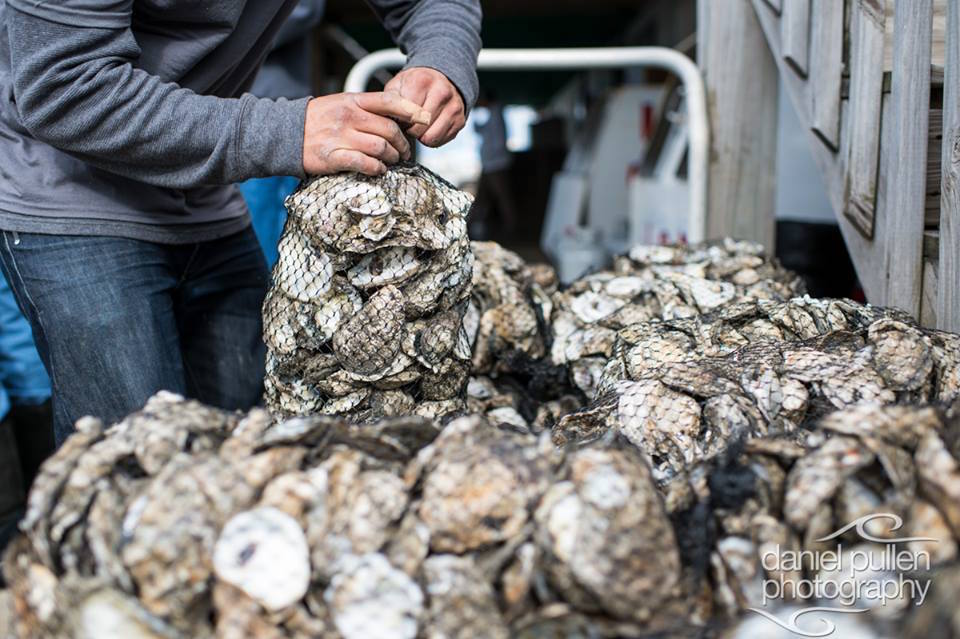 Oyster education is particularly important as our state has implemented The Oyster Restoration and Protection Plan for North Carolina: A Blueprint for Action 2015-2020. The plan is to rehabilitate coastal environments so more oysters will grow in the wild and to encourage entrepreneurs to farm oysters to meet the needs of a growing demand for the delicious bi-valve. Oyster mariculture, as it's known, is a growing industry, and Hatteras Island folks who participate in this sometimes risky venture are gaining a well-deserved reputation for a quality product. They include Buxton- based father and son team Bill and Ryan Belter of Cape Hatteras Oyster Company, Spurgeon Stowe (a Hatteras native) and Katherine McGlade of Slash Creek Oysters, and nearby Ocracoke neighbors Heather and Fletcher O'Neal of Devil Shoal Oyster and Clam Company. All three enterprises were mentioned at the 2018 Pelican Awards and Taste of the Coast event sponsored by the NC Coastal Federation. All growers are proud of their oysters' merroir, the way oysters reflect the taste of the waters where they are grown. McGlade touts the fresh clean flavor of the Slash Creek oysters which are grown in floating bags behind Hatteras Village. Other oyster farmers employ a variety of methods, including a system of floating cages connected by a clothesline-like apparatus. The Division of Marine Fisheries deposits thousands of bushels of oyster shells, or marine limestone called "clutch," that serves as a base or reef, a breeding ground, for oyster larvae or spats to adhere to.
So while you're enjoying the food and entertainment at the Hatteras Oyster Roast, remember that you are helping to support a process through which a single adult oyster can filter sediment, pollutants and algae from as many as 50 gallons of water in an hour. In 2017 the North Carolina Coastal Federation launched a campaign to add 50 million oysters to the state's inventory, enough to filter an estimated 2.5 billion (that's with a b) gallons of water every day. Let's lend our support to a growing industry and our coastal environment — and please pass the hot sauce.