Among the joys of living on Hatteras Island is my array of handy friends. Having lived in academic communities for most of my life, (academics are not known for handiness), I really appreciate being able to call a friend or neighbor and ask about repairs, maintenance and workmen. I can also walk around my neighborhood and see what my friends and neighbors are up to. And, no surprise, they are all busy doing Spring Cleaning. So I took notes from conversations with my neighbors and iPhone pictures of their projects and came home to write up my new found information.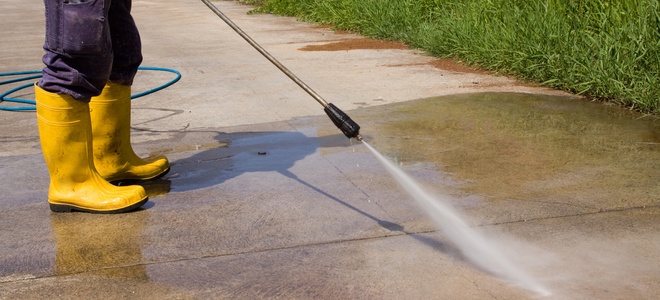 First off, a savvy friend pointed out how to maintain and preserve heating and air conditioning units (HVAC, to contractors). Since this is an integral part of any home's systems, it seems like a logical place to start. My friend recommends a routine washing down to remove salt build-up which accumulates on all surfaces whether your home is oceanside, soundside, or, like ours, in the woods. Since these condensing units are usually on raised platforms outdoors, they are easy to access. Use your garden hose to spray the entire unit, including the interior components that you can reach. Of course, this simple regular cleaning does not eliminate having a licensed HVAC technician inspect your unit every year. By the way, while you have your hose out, spray any aluminum elements like window frames or sliding glass door surrounds. Then wash your windows. Ugh.
Though my friend is not a fan of power washers, mainly because they can do damage rather quickly if you are not familiar with using them, he does agree they are useful for washing concrete flooring on carports, or, in my case, driveways with aggregate which really collects mildew and looks grungy! Rather than use a power washer on some of my shake siding which has collected a fringe of algae-looking green stuff, he recommends using a stiff brush and a solution of water and bleach, (about one cup of bleach to a gallon of water). This cleaning technique requires considerable elbow grease, but it works. It's equally effective for cleaning decking as well as shakes. If your decking is stained or sealed, remember it has to be retreated on a regular basis. My experience is about every three years.
Since I do not have gutters or downspouts, my friend took a look at my roof shingles. Though there were no glaring problems, he pointed out that it is good to keep an extra bundle of shingles around for repairs. That keeps the new and old shingle colors consistent. I do have cedar shakes as the siding on my house and if they had been poorly installed, they could have been a source of water penetration. So far, so good. My house was put up by an experienced Island builder who knew his craft, so 16 years into its life, we're still dry.
Since this Spring Cleaning list is for the home's exterior, it is helpful to point out that one of my friends routinely tests my railings and staircase newel posts for sturdiness. Carrying around a few nails and a hammer seems to be a habit with handy people. They can also be used to hammer in a few sprung nails in the shakes.
Another advantage of knowing handy home owners is combining projects to attract workmen. In my neighborhood, three neighbors coordinated the pumping of their septic systems in order to most efficiently make use of a pumping truck. In the Spring Cleaning season, workmen are in high demand and short supply!
So whether you are a home owner who rents property for the season, or, like my husband and me, just un-handy home owners, here's a list of suggestions gathered to start you on your Spring Cleaning.