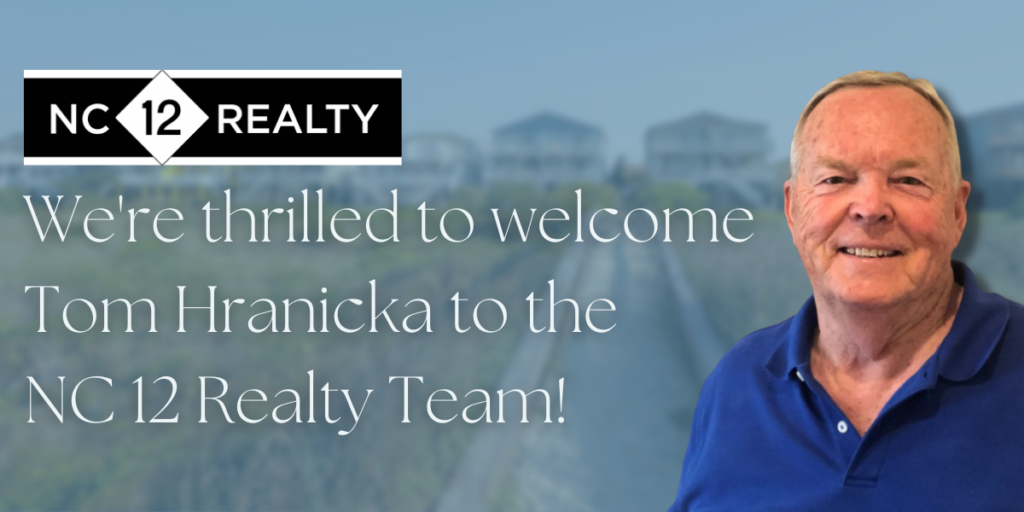 NC 12 Realty is pleased to announce Tom Hranicka as a Senior Associate Broker. Tom brings a wealth of experience to the company, having begun his real estate sales career on Hatteras Island after moving here from the Baltimore-Washington area in the spring of 1991. For more than 30 years, Tom Hranicka has been a top producer, but most importantly he is an asset to his clients, mentor to many Realtors on Hatteras, and a go-to source for reliable insights on the local real estate market.
Throughout the years, Tom has striven to set the standard for the practice of real estate. In fact, half of the NC 12 Realty crew began their real estate careers under Tom Hranicka's leadership. Trafton Reynolds, co-owner of NC 12 Realty, A.K.A. "Grasshopper", respectfully addresses him as "Master Tom" to this day. Trafton writes, "Tom's attention to detail and uncompromising ethics have much to do with the way NC 12 Realty has built our business. It is an honor for him to affiliate with our company."
Tom and his wife, Louise Hranicka, are the authors of Your Personal Guide To Hatteras Island Real Estate, the first book devoted exclusively to the Hatteras Island real estate market. Tom has written monthly real estate articles for the Hatteras Monitor magazine starting in the early 1990s, the Island Breeze newspaper, and the Island Free Press, Hatteras Island's online newspaper.
Tom has made professional education one of his core business values. He is a Graduate of the Realtor Institute (GRI), and he holds the Accredited Buyer Representative (ABR) designation. Tom has also earned the prestigious Certified Residential Specialist (CRS) professional designation. Earlier in his career, he was a charter member of the Institute for Luxury Home Marketing, completed the Recreation and Resort Specialist (RRS) training course, and held the National Association of Realtors® Green designation (Green).
During 2014, Tom was featured on national TV on the Destination America channel's program, Buying the Beach, and he filmed a second national TV show for the HGTV series Beachfront Bargain Hunt which aired in January 2015. Tom was also selected to write the weekly Hatteras Island Business Review on Radio Hatteras, the island's local radio station.
Technology has played an increasingly important role in real estate marketing. Tom and Louise Hranicka recognized this early on and became a member of CyberStars International™ in the mid-1990's. This is an elite group of 200 real estate professionals with demonstrated outstanding ability in production, using today's technology in their marketing efforts and a willingness to share their discoveries and ideas with others. In conjunction with their CyberStars™ affiliation, Tom and Louise have been featured in three books and have given presentations at industry seminars addressing the use of technology in resort real estate marketing.
Still relevant today, Tom's 2007 video featuring Hatteras Island was a viral sensation before going "viral" was a known term. You can view it here: https://tinyurl.com/HatterasIsland
When the time comes for you to buy or sell real estate on Hatteras Island, you will want the security of knowing that you are working with a professional who understands your needs and cares about your preferences. Tom stands ready to assist you in every way possible. Please feel comfortable calling him at (252) 305-1556 or contacting him by e-mail at TomHranicka@gmail.com.