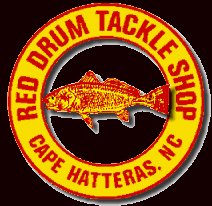 It is now 15 years since Island master builder Archibald Morse raised our beloved Sand Box in Buxton. Archibald now lives and builds in Wilmington, but we treasure those 30 years of experience that building on Hatteras Island gave to Archibald and, by extension, to our modest project. As we look around, we are grateful for other landmark businesses that have stood the test of time and given us such good service and even better memories. Among those are The Red Drum Tackle Shop, owned and operated by Bob Eakes for just at 43 years. The Red Drum is newly ensconced in a sunny yellow building on Highway 12, just across from the turn to Lighthouse Road and the entry to the Cape Hatteras National Seashore with its nature preserve and historic lighthouse and museum.
The Red Drum's fresh paint and snappy signage gives notice that this veteran business may be gearing up for another 43 years which will suit Bob's friends and customers just fine. I reached Bob on a busy Tuesday just as a drum bite on the Cape was energizing Hatteras Island visitors and local fishers. After a few more tries, I was able to ask Bob what brought him to Hatteras Island as a young man and what helped him to stay.
It's a true love story. Bob grew up fishing in ponds on his family's farm outside of Greensboro. By age 15 he had his own 13-foot Boston Whaler, with a trailer, that his mother graciously pulled for him as he explored the many lakes and ponds in the area. He still has the boat.
With his good fishing skills and a love of nature, it was logical that Bob would explore the Outer Banks and the world class fishing here. And two years out of college and a stint in a windowless office, Bob decided to try his hand at living and working on Hatteras Island. "There weren't many tackle shops out here then," Bob remembers, but he managed to get employment with one. That began his "school of hard knocks education" that has served him well these many years. When an opportunity came to lease a space in the Red Drum shopping center and open his own store, Bob took the plunge. "I found good friends in the Couch brothers," says Bob. "Stuart is gone now, but John and Danny are still here and I'm fortunate still to be in the neighborhood."
As Bob settled into his new business, he was drawn to creating custom rods. "At the time, there were only two or three reel makers and maybe four or five rods that were commonly sold," he remembers. "I worked to become knowledgeable about building rods that would do what you needed them to do, not just get the line in the water." As Bob described it to me, the process of custom rod building required good quality blanks, guides and threads and putting them together just so. It is obviously a craft he still enjoys. The Red Drum Tackle Shop is a full service bait, tackle and gear shop with quality goods for all ages. It is also a great source of up-to-date fishing information that is easily accessible on the shop's website. And as Bob is quick to point out, the Red Drum is the tackle shop that's closest to the Cape! So next time you're passing by the bright yellow building on Highway 12, turn in and meet Bob Eakes and spend some time in his pleasant store. Both Bob and the Red Drum are local landmarks