On an Island populated with artists whose skills are reflected in colored pencil art, water colors, acrylics, photography, pottery and all media in between, it is a joy to see the art of mural painting showing up on buildings from Hatteras to Avon. This new twist on the art scene is the brain child of Cape Hatteras Secondary School art teacher Justin Paxton. A Norfolk native who has lived on the island on and off since he was four years old, Paxton is a graduate of ECU with a degree in fine arts and jewelry design. He and his wife returned to Hatteras Island and the young art graduate became the school's art teacher in 2014.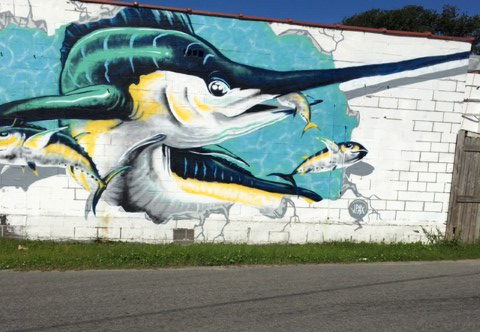 Inspired by a school trip to Europe, where wall art abounds, and a YouTube video demonstrating the positive impact of public murals on a New York neighborhood, Paxton started talking with Island community leaders and business owners to find locations for his outdoor art. The theme, as Paxton saw it, would be to display what the community is about. For Hatteras Village that obviously would be the sport fishing industry. Paxton's technique is to ask the owner of a business what it is that they see. The responses have provided interesting comments that often guide the art. For instance, the owner of the Red and White market in Hatteras wanted something surreal, so Paxton and his group of volunteer students created a marlin jumping out of the store's end wall, chasing yellowfin tuna. The Red and White mural was challenging not only for its action-packed subject but also because it was painted on a very large wall. Paxton and his volunteers try to work five to six hours a day every day, and often have to work around the weather. That can be especially challenging because of the late spring weather that comes with the end of each school year.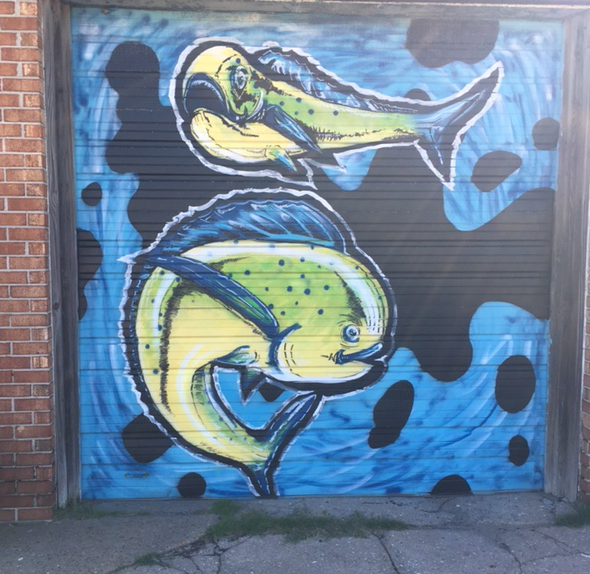 Paxton's first mural was painted above the bleachers at the Fessenden Center basketball court in Buxton.  Colorful and diverse subjects appear in Hatteras on the outdoor fruit and veggie fridge at Lee Robinson's General Store and on a challenging 50-foot wall on Nedo's Shopping Center. To date, other murals can be found on Jeffrey's Seafood building in Hatteras Harbor, a scene depicting one of the Albatross Fleet boats with a leaping sports fish in the foreground, and the garage doors at Balance Car Garage.  Mural art made its way to Avon at the invitation of Delores Scott of Askins Creek Store who asked Paxton to create a mural for the business's car wash wall. The painting captures the kiteboarding and wind surfing culture of the area and is set at Kite Point and Canadian Hole just North of Buxton.  The deal between Paxton and Scott was closed with a donation of paint and contributions to the school art department.
Thanks to Justin Paxton and his many volunteers, including Emma Koontz, Michael Clark, Diane Artzt, Parc Greene, D. J. Register, Anna France, Carlos Escobar, Jasmine Quidley, Krystle Woods, Kendal Woods, Chelsea Artzt, and Lauren Wright. If you are interested in the process of mural painting from start to finish, Epic Shutter Photography has chronicled the mural on the Jeffrey's Seafood building in Hatteras Harbor. See it on their blog.