With the advent of hurricane season, it's time to celebrate the hardy nature of those of us who live on and visit glorious Hatteras Island. No event epitomizes the fortitude and creativity of the residents of our lovely island home more than the Day at the Docks festivities, scheduled this year for Friday, September 14 and Saturday, September 15. The Day at the Docks began in 2004, the anniversary of mega storm Isabel that tore the island apart, creating an inlet that cut off Hatteras Village from the rest of the island and destroyed a wide swath of the essential transportation route, NC Highway 12. For two months, Hatteras Village was isolated from the rest of the island except by boat.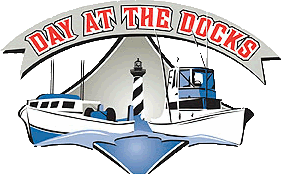 The Day at the Docks festivities, sub-titled A Community Heritage Celebration, takes place among the marinas along the scenic Hatteras waterfront and includes fishing competitions, children's games, cooking demonstrations, music, talks, and arts and crafts exhibits. The focus is commemoration and education, focused on the role of the watermen who have been the enduring basis of the island's culture and economy for generations. After the devastation of Isabel left Hatteras Village isolated the watermen provided the only means of transportation for food, medical supplies and any vestige of commerce to keep the village going.
A YouTube segment, narrated in part by Captain Ernie Foster of the famous Albatross Fleet charter fishing family, describes the effort to make the anniversary more than a waterfront fair. He recalls that the festival founders wanted to emphasize the role of the working watermen and the part they played in literally saving the life of Hatteras Village, as well as the charter fishing industry that is its main sustenance. The festival program has since expanded to include information about responsible fishing techniques, sustainable seafood, climate awareness and methods to foster the sea-dependent economy of Hatteras Island.
Begun in 2004, the year before Jim and I built our home on Hatteras Island and just one year after Isabel wreaked such havoc, the Day at the Docks is a unique experience that commemorates a unique event. According to Wikipedia, Isabel was the strongest Atlantic hurricane since Mitch, a 1998 storm that ravaged Central America. It made landfall with sustained winds of 105 mph and caused $450 million in damages on the Outer Banks and in eastern North Carolina before trailing up the mid-Atlantic to West Virginia and Pennsylvania, with a total of $5 billion in damages. Storm surge and flooding were the most significant culprits damaging thousands of homes and businesses in Dare County alone.
The Day at the Docks offers the opportunity to learn about your Island environment while experiencing a wealth of Island activities. The North Carolina Coastal Federation joins other organizations and agencies to staff the education tent and conduct special field programs that include, among other adventures, the exploration of the living shoreline at Durant's Point.