One of our family's favorite outings, with or without house guests, is a trip to the Graveyard of the Atlantic Museum in Hatteras Village. Easy to locate, adjacent to the Hatteras ferry dock at the southern end of Highway 12, and recognizable by its distinctive architecture (yes, it is meant to look like the remains of a shipwreck) the museum opened its doors in 2002. The Graveyard of the Atlantic is a branch museum of the North Carolina Museum of History and admission is free.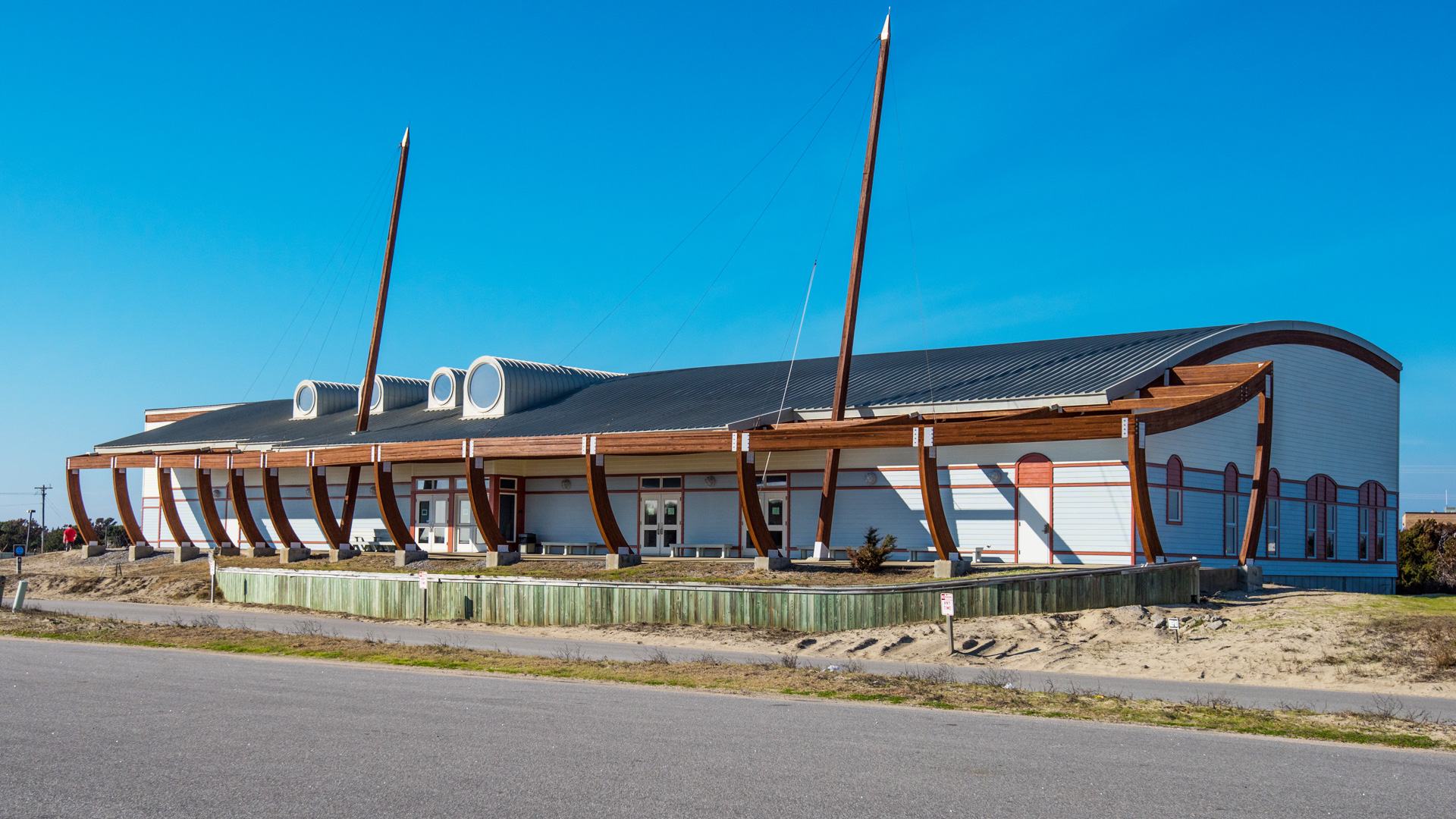 What's especially important to those of us who are dedicated museum goers is the number of programs and events scheduled throughout the year, particularly from mid-May through September. These presentations and activities include seafood cooking, the Civil War and WW II on the Outer Banks, commercial fishing, life-saving stories, and the family-oriented Maritime Crafts series. Hatteras resident and master decoy maker Sam Green gives classes on canvas decoy painting each Friday until November 22. There is also an Underwater Heritage Symposium in April, ceremonies honoring our British war graves in May and the Christmas gala in December.
Of special note this year is the Queen Anne's Revenge exhibit currently on display at the museum until September. It highlights artifacts brought up from the pirate Blackbeard's flagship Queen Anne's Revenge that ran aground in Beaufort Inlet, off Beaufort, North Carolina, in 1718. The exhibit features interactive displays, ship models and lots of history about Blackbeard's exploits and his spectacular demise, showcased attractively with easily readable story boards. The ship model of the Revenge is delightful and especially intriguing as it informs us that the Revenge was actually once the La Concorde, a French ship that carried enslaved people from Africa to the Caribbean and served as a privateer in Queen Anne's War between 1702 and 1713. (The war, one of three fought in an on-going effort to secure England's New World colonies, took place mainly in Europe.) When Blackbeard captured La Concorde he renamed it to honor Queen Anne of England who had been displaced by a Hanoverian heir. Blackbeard increased the ship's armaments with a significant number of cannons, one of which is on display in this exhibit.
The shipwreck from which this treasure trove of artifacts comes was discovered in 1996 by Intersal, Inc. a salvage and exploration company, about 1.25 miles off Fort Macon State Park on Bogue Banks. Intersal's president, Phil Masters, entered into an agreement with the state of North Carolina to keep the collection of salvaged artifacts intact. The official repository of the collection is the North Carolina Maritime Museum in Beaufort with which the Graveyard of the Atlantic is also associated.
So let's support North Carolina's coastal treasures and the many citizens and state agencies that contribute to their preservation. And let's have fun doing it.