NC 12 Realty is approaching a ten-year anniversary this October, prompting some reflection on the growth in the real estate market and the incredible group of Realtors® who have come together to compromise Hatteras Island's largest sales agency. NC 12 Realty's 15 agents are proud to serve current and future homeowners as they buy and sale their Outer Banks properties, backed by 187 years combined expertise in our market. Collaboration is at the heart of our approach. We use our collective knowledge, local expertise, and unified resources to help our clients achieve their real estate goals.
As a valued member of the NC 12 Realty group, Tom Hranicka has long been known for his monthly watch on the Hatteras Island real estate market and statistical insights. NC 12 Realty is fortunate to have access to Tom's findings around the 15th of each month, which keeps us mindful of certain market indicators, in addition to what we observe in our day-to-day dealings in sales on the island.
You can expect to get a glimpse of "Tom's Takeaways" every month in our email newsletter. This month, we are sharing a bit more detail with Tom's commentary and three of his year- to- date market summaries:
---
Three Hatteras Island real estate market summaries follow for your review.
1. The monthly market indicators for the period January – July 2023 vs. the same time frame in 2022.
2. A detailed look at the market statistics on a monthly basis from January through July of this year.
3. A very revealing summary of the island's real estate market by price range.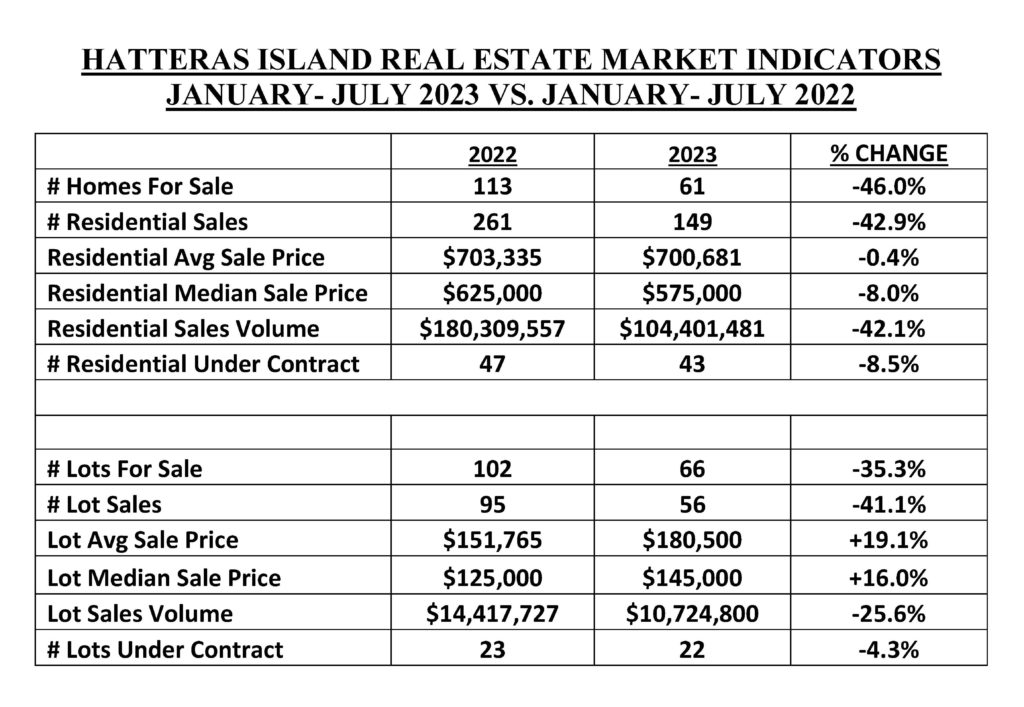 ---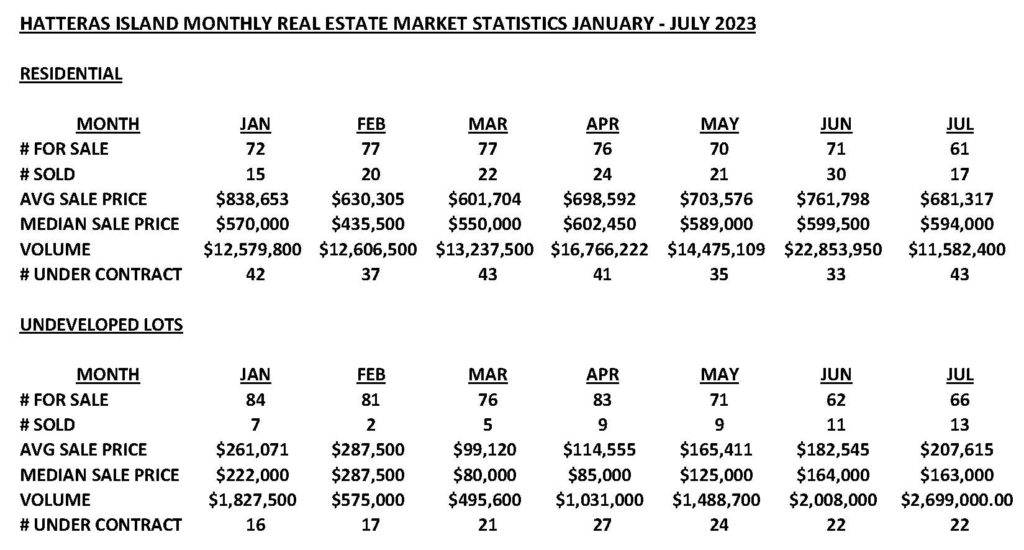 ---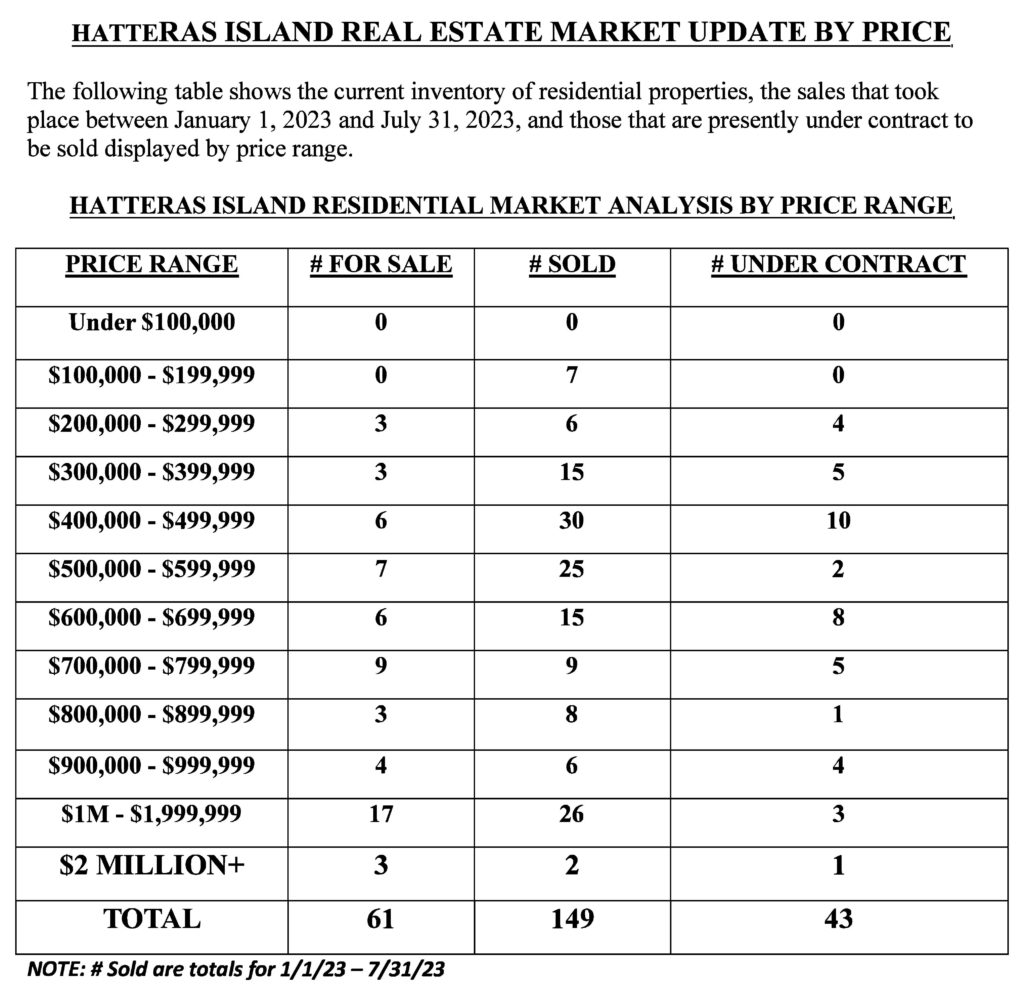 Some of the conclusions and observations that we might draw from these reports are these –
• The major residential market indicators through July are trending downward.

• The residential market through July is approximately 40 to 45 percent below the results reported for the first seven months in 2022.

• Average selling prices have been holding up fairly well while the last increase for median sale prices on the island was in January. The median sale price for January through July was $575,000. The monthly median sale price for July on a standalone basis was $594,000 while the average sale price in July was $681,317.

• The limited inventory of properties for sale on the island is probably our biggest challenge (as it is the national real estate market). Except for July, which only had about 61 homes for sale, the number of properties for sale on the entire island has been in the 70 to 77 range since January. At the same time, many commentators believe that it is the reduced inventory that is keeping selling prices high. The other silver lining to the reduced supply of homes for sale is that it is a seller's market. Owners today who choose to market their properties are almost guaranteed a sale and possibly multiple offers.

• The number of residential properties sold each month on the island this year has ranged from 15 to 30 with most months reporting sales numbers in the low 20s. These figures do not take into account the pent-up demand for Hatteras Island homes. The dream of owning a place at the beach is alive and well. If the number of available properties was greater, sales could be expected to increase.

• Properties under contract to be sold, which are considered to be a leading indicator of future sales, have consistently been in the 35 to 45 per month range so far this year.

• It has been some time since I have researched the real estate market by price range. In my opinion, this was the most interesting report that I just prepared. There weren't any real surprises to see that most sales on the island have been in the $400,000 to $600,000 price ranges. I have to confess, however, that I was absolutely stunned to see the number of sales (28) in the million dollar plus range this year. This suggests to me that there must be an incredible amount of money just waiting on the sidelines for the right property to become available. It also suggests that in today's market, we shouldn't be shy when pricing new properties for sale.

• Next, let's take a look at the market for undeveloped lots on Hatteras Island. For perspective, last year, 92 percent of the property value of real estate that was sold on the island was derived from residential sales, and 8 percent came from the sale of undeveloped lots. While there are a variety of reasons for the imbalance, the lot market historically generates less sales volume than the residential market.

• Like the residential market, the major market indicators for undeveloped lots are also trending downward through July with one major exception – the average and median selling prices are continuing to move in a positive direction – up 19 percent and 16 percent respectively.

• The available supply of lots for sale, the sales of undeveloped properties, and the number of lots under contract to be sold are below last year's levels. However, the average selling price for the first seven months of the year was $180,500, and the median sale price was $145,000. For comparison, at the end of 2021, the average selling price of lots was $134,450 and the median selling price was $91,000.

• Looking forward, both personally and professionally, I have a sense that once the moratorium on new connections to the central wastewater treatment plant on the soundside in Kinnakeet Shores is lifted, the stage will be set for a surge in lot prices and sales in that community.

I hope you find the enclosed reports and this commentary to be both interesting and informative. Please let me know if you have any questions or comments or if I may do any additional research for you.

Best wishes for continued success,

Tom Hranicka
Senior Associate Broker
You may reach Tom at TomHranicka@gmail.com or 252-305-1556 for his take on insights that interest you the most.